The men who waltz into my chest
smile as my father would before he walked
out one morning and crashed
into a swollen thigh. What we truly
know—dying is somewhere between ejaculation
and a sigh. If he ever returned, we'd fill
the empty china still on the dinner table
with boisterous laughs he'd no longer
give us. We've aired our hopes in the sun
and now, the night goes quiet with its own kind
of grief. Unwashed and never yielding,
small giggles appearing on the walls where
his portrait watched over the silence.
It is true what the stories say about ghosts—the tenor
of their affection is how to become familiar
with the tragedy of their past. I may have chosen
to fold into origami, balance the ache
of the world in-between my spine. But when a man
at the roadside bar hooks a smile into his face,
I see my mother's husband, wiggling into his finest suit.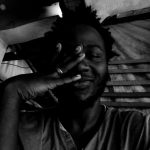 Elias Udo-Ochi is Igbo and queer. He is a finalist for the 2022 Black Warrior Review Poetry Contest selected by Diane Seuss, 2nd Place Winner of the 2022 Penrose Poetry Contest and was recently shortlisted for the 2023 Alpine Poetry Fellowship. He is a member of The Deadliners, a collective of badass Nigerian creatives. Say hi to him across all platforms @eliasudoochi.