With a soil knife, its blade speckled with deep rust. With the groundhog
caught in a metal trap, too-soft big-boy tomato in its hands. The split ends
I trimmed with dull scissors––I feed them to the soil, place a daffodil bulb
on top. double cheerfulness, dutch master, lemon sailboat, thalia. I grow
what doesn't belong here in brutal heat. With a lower chance of survival.
With a caterpillar trailing down my calf. With the groundhog gnawing
on the cage's bars. With too many rows tilled and not enough seeds.
With the worm I envelop in my hands: a fresh pink thing with a brown
underbelly. I lock my fingers to seal light. With the groundhog ramming
its body against the cage's wall. With my grandfather's steel-toed footsteps,
the sun refracting against the just shined silver of his mother's pistol.
With a quick shot with a fresh silence.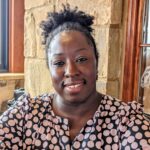 Kiyanna Hill (she/her) is Black writer. She is left-handed. Her work can be found in Honey Literary, Porter House Review, Peach Magazine, and Autofocus. Currently, she is a Ph.D. student at Georgia State University. Her poetry chapbook A Damned House and Us is forthcoming from Variant Literature.