today the dream-eaters are happy creatures: have eaten
many winning lottery tickets. left the falling teeth to
do their falling. and. inhaled many I wish I would haves.
i too wish to be content in the exact situation that
i find myself in. in whatever / every moment. like when
dipping into nostalgia we remind ourselves that we don't
have to think about how the next morning after we
snuck out of work at noon. we had to go back to work.
only to find all yesterday's work there
*
+++++++++++++++++++++++++++. convincing ourselves
that it is just a rout. that we can talk ourselves out of it
in talk therapy. having an old friend randomly invite us
out for dinner. recapping various events / accomplishments
of the previous years. walking home feeling grateful and
interested in the power of small gestures. stepping into
a wishing fountain. feeling overcome with gratitude /
a sense of new beginnings / apologetic as you toss pennies
over your head. there isn't a word to explain this feeling.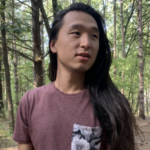 Sean Cho A. is the author of American Home (Autumn House, 2021), winner of the Autumn House Press chapbook contest. His work can be future found or ignored in Copper Nickel, Prairie Schooner, The Massachusetts Review, and Nashville Review, among others. Sean is a graduate of the MFA program at The University of California, Irvine and a Ph.D. student at the University of Cincinnati. He is the Editor in Chief of The Account.