seagulls tumble—clothes in a dryer—
(through the glass a mocking sky)
floating apostrophes to signify dominion
over flight, fall. he's euthymic today,
cradles an arm. a bird perched in the
corner converses with echos. shakes,
approaches the nurse with gray feathers
under eyes. (hope, fear, pleading) "sleep,
my son had the same…" gravity—the same
weight of a lost balloon in atmosphere—
the scene is filled with gathering sounds. nurses' keys:
whippoorwills, as teethchatter thoughts flounder up
wards locked, endless, pacing. in the box
i am cloaked in sock-shoes. blankets. a
gown. dragging wings in wake.
feather-matted.
mottled with little sorrows—to the interest of
the birdwatchers, taking notes on this
and that. this and that. (this bird rarely sleeps. set
on migration. the next thing. the next thing.
a girl and where she is and where he
isn't.) where is the compass in these
bones? this voice is not my own, this song
no more
than silence reflected upon itself, these
wings no more than broken ornaments—she
visits:
holds his trembling gaze. (holds himself together.)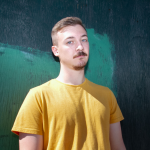 Brenden Norwood is a Marine veteran pursuing a music education degree with a philosophy minor at the University of New Hampshire. He's also an indie bandleader that collaborates with famous musicians. His debut EP, Miss the Point, is set to be released on Island House Recordings in July 2023. For Norwood, music and poetry allow him to explore feelings of listlessness, struggles with bipolar disorder, as well as life's little joys and the connections between us all.