|
Here, I saved this for you, she pushes the white book
with an outline of a Gerber-baby-esque face embossed
in gold into my hands. Your baby book, she smiles
with teeth exposed. She only smiles with teeth
for family. In photos, only pursed lips, upturned. I
cock my head, being 33 years old & feeling a weight
from a record of myself I never knew existed. Open
the snapping binding to the smell of stale musk. In the flip,
not a snip of hair, fingerprint, photo in sepia-ed 70s or 80s
squares & a blank line after, This book belongs to: quiet of white
space, not mine to inhabit: a thought of a thought
never beyond a spark in her cerebellum, a smudge-
less trace of zero ink on a single page, in all 52 pages—
empty. My body a ghost of an outline, reverberates.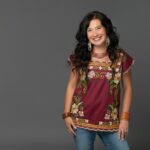 Felicia Zamora is the author of six poetry collections including I Always Carry My Bones, winner of the Iowa Poetry Prize and the 2022 Ohioana Book Award in Poetry. Her poems appear in Boston Review, Guernica, Orion, The Nation, and others. She is an associate professor of poetry at the University of Cincinnati and poetry editor for Colorado Review.