I was eleven when I first felt the pain on my left side, somewhere around the circular, darker tinted spot of skin on my upper left torso. I had no words then to describe the location, so the doctor, a kind middle-aged lady, lifted my dress, exposing my large bloomers, and looked where I pointed. 
"It's just her breasts," the doctor said, in a mildly dismissive way. 
My mother's eyes rounded in disbelief, adding to my distress. "Isn't it too early?" my mother asked in her always-quick-to-panic voice.
"Oh, this is just the age," the doctor matter-of-factly replied.
The pain left me after a few days, but I remembered the doctor's words for a long time. I was at the age when things would happen to my body—to me—that I would have little control over. I felt conscious of my breasts every time I had a bath, and every time I jumped and ran. They were something other than myself, yet part of me: they moved, jiggled, made me feel heavy, weighed me down. 
My mother and grandmother warned me not to touch them, or they would grow too big, and I would look "over-developed." They grew anyway. They jutted and bobbed out, no matter how much I hunched over, hugged myself in, and wore the loosest clothes. 
It seemed the world, too, knew of my embarrassment and dread and contrived to make me aware of harsher truths. I thought the rickshaw-pullers who took me to school deliberately rode over the potholes and other rough places on the road, making my breasts wobble and jerk painfully. When I went by car, the driver lowered the rearview mirror, just a bit, so he could see my breasts every time he looked up. 
Outside, I'd see the 'eve-teasers,' young men who roamed the streets with no impunity, waiting for girls like me to pounce on, tease and harass. A boy whose younger sister played with my six-year-old sister reached up to touch me there, asking, "What are those?" 
Men, young and old, known and perfect strangers, looked at my breasts, not me. It could be the briefest of glances, a sweeping gaze, or a lingering contempt-filled look. Those years, I had no escape, not even in the bathroom, where I once caught my brother spying on me from an overhead window. 
The clothes I wore helped little as I had no bras then. In India, it was understood women matured later, or that once they looked too old, they were married off. I wore shapeless knee-length frocks. Under my frock, I wore a long slip. I felt hot wearing slips and remained nearly as visible. I despaired, until the day I made an accidental, but happy discovery. 
I wore my sister's slip by mistake. I realized it only after I had pulled it over myself. I pushed my head through the narrow straps and twisted it down my neck. Then, panting and holding in my breath, I pushed it past those things and over my waist. I could barely breathe, but my breasts had been flattened, ironed out, practically erased out of existence. Breathless from excitement and the tightly constricting slip, I put on my school uniform and headed out. 
Nothing hurt me that day, not the rough roads or the leering glances. I had discovered the secret to making my breasts vanish. 
The next day and the days after that, I wore my own slips and used safety-pins to pull the cloth tight over my breasts until all I had was a flat, even chest. When I looked at myself in the mirror, I appeared much like a square box, but at least then no one else looked at me.  
The slips tore as the safety pins streaked through the fragile cloth, leaving gaps that only got bigger. Some days I wore the same slip, taking it off only when I had a bath because I was afraid my secret might be discovered. I washed my slips on my own, which became a closely guarded routine, and was intensely careful not to graze the already torn parts. 
That care contrasted with the pain I felt when the pins grazed me, poked their teeth into me, and bit. I bled many times. Scratches and scars soon marked my breasts. Spots of blood dotted my skin and left brown stains on the slips. The blood tasted metallic and musty, and the mustiness oozed out of me. Yet, I was relieved. I had rendered myself breast-less. I had won a victory over the eve-teasers and breast-gazers who had so tormented me.
I looked surreptitiously at other girls, my classmates in school. I had a secret that was all mine—one that made me feel ashamed, that embarrassed me, too. I pursed my lips every time a pin burst and pricked me. Invariably this happened at unexpected and quiet times when I feared everyone around me could hear the sound of a pin opening.
All those years, I was full of pain and in the throes of that secret, scarred by it, yet preserving it in every way I could. At the same time, I felt un-visible and absolutely, blissfully free.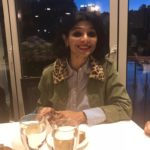 Anu Kumar is a graduate of VCFA's MFA in Writing Program. She lives now in New Jersey, and has also been published in the Chicago Literary Review, Numero Cinq, Theaerogram.com, Juggernaut.com, and Copperfield Review. She also writes for Scroll.in, and Economic and Political Weekly. Her most recent novel is Coming Back from the City: Mumbai Stories (Speaking Tiger, 2019).