Father told my sister and me to pray to the volcano: Please allow our visit and let us enjoy the day in the paramo. But I knew my cousins in the car in front weren't doing it, so I closed my eyes and just pretended. 
We never made it to the snow. We couldn't find the way to the refuge, so we settled for a picnic on the slopes of Cayambe.
On the way down, Father allowed me to lead the way on my BMX. Mother told me to wear a helmet. "I'm ten," I told her. I hopped on my bike and was soon bouncing down the cobblestones like a jackhammer. 
I wanted to put a thousand miles between myself and the cars. I stopped to check on them. The curvy road allowed me to see them up there, through the clouds, now at distance. I reckoned I had at least five minutes on them. I restarted my descent and pedaled, real hard. My heart kept up with my speed and I was a hummingbird flying down that forgotten road. Steep.
Through the roaring wind I heard a loud buzz from behind. My uncle Macartur, on my father's purple mountain bike, zoomed past me like he would a telephone pole. They must have sent him out to check on me, but he never stopped. 
Alright, it's on! I hit those pedals again until my thighs burned but he kept fading away at every turn.
The wind pierced my face like needles and my hair whipped my eyes. I dodged gaping craters on the road, grasped the handlebars and stayed on the pedals, somehow. The cold air cut into my fingers. Focus on the brakes, focus on the brakes. I pressed them tight.
I cleared a monstrous hole only to find a bigger one ahead. I slammed into its missing rock with my front tire with such force that I flew. My god, I flew. 
I met the volcano's hardness as I bashed against the stones. 
I crawled to the grass on the side of the road. It was green and soft and smelled of moist and I rubbed my cheeks against it. But the pain blurred my vision and gradually, everything got darker. I closed my eyes and approached the light. 
I woke up in the arms of my Father, ready to perform CPR on me. His knees pressed against the grass as he held my head with care. I saw his face ready, concentrated on the task ahead. He took some air in, closed his eyes and leaned forward toward my mouth.
"UGH," I screamed and pushed him away. "Get off of me!" 
I saw Mother, pale, hugging my aunt. My cousins and my sister looked at me like I was some kind of monster. No sign of Macartur. 
In unison, my pesky younger cousin and my annoying-by-default little sister said, "No tienes dientes!"
My mouth throbbed. I reached for my teeth with my tongue but my swollen lips didn't allow. 
"You're okay, you're okay," Father said, but I screamed as I shook my head in disbelief. 
Tears washed my face as I ran to the car. I leaned against the door to look at my face in the side mirror. All it revealed was a black and bloody mouth. 
My heart bonged in my chest and palpitated in my neck. I dug into my mouth and soon discovered that glory is white like milk.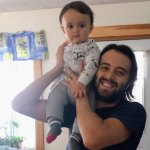 Sebastián Ponce is currently working on his debut novel. He usually plays the Polish Opening with white, the Alekhine Defense with black, and loves smothered checkmates. Born and raised in the mountains of Ecuador, he now lives in Maine with his wife and children, where they enjoy walking by the ocean.