We eat well. There is duck (freezer burned) thawing in the sink. I found it in the discount bin at the No Frills market. My husband, James, is making Duck A l'Orange for dinner. We stand side by side in our galley way kitchen, bodies close as we cook for our children. 
I turn down the Iron Maiden blasting from his phone. Talking while we prep reminds me of better days. 
"Does it make you sad?" I ask. 
He turns to me. "Does what?" 
But he knows what I mean. Us. Cooking together. Our muscle memory working around each other's hands and flowing seamlessly to the next task. He knows what I mean, because how could he forget? He keeps chopping the onion, and I wonder if the vegetable is making his eyes red.
*
Even when eating sweets, we eat well. Choux pastry, puff pastry, French macarons. These items are on my baking list this evening. My hands are tired from the day spent in a warehouse laundry room, wrinkled from chemicals, dry skin catching on fabric flyaways. My feet ache from a long shift, but ever since waking up this morning, a force has been pulling me to the kitchen. 
Years ago, in our tiny industrial kitchen, James taught me how to craft artisan bread and pastry. We'd dreamed of opening a restaurant. First, we'd saved for James' culinary training. Then we saved start-up funds for the business. Finally, we brought our vision to fruition. Our bakery was called the Hot Wire Panini since we specialized in pressed sandwiches. Our goal was to build a community around good food. Now, that place only exists in such a distant corner of my memory that it tears my heart open a little bit to think about.
"How about you take care of the fancy French stuff, and I will keep pumping out these badass cupcakes that the customers love," I told James when he suggested I start using recipes to avoid food waste. 
"We need accuracy. If we expect any kind of consistency for our regulars, we will need to follow recipes." 
"Okay, okay, you're the Red Seal Chef," I said and learned how to accurately make an éclair.  
 *
Crockpot stews made with little meat and a lot of veggies—not for health reasons or environmental impact. Jesus, I wish I could be so mindful. 
No, the meat in our stews is what little I can buy on discount that week. Sunday nights, I stay up late crafting simple dishes, stored in Pyrex, ready to be popped into an oven for the week ahead. 
Still, we really do eat well. Whatever that means.
*
When the Hot Wire failed, we tried to move forward, but it isn't always easy without looking back. 
A hot homemade casserole after tallying unpaid bills, after searching for employment, after breathing relief when we make it through another month, that's nice. It's amazing what a good meal can do. 
*
We drink well, too. Sometimes, despite our lack of funds, James and I find ourselves at the local craft brewery. We are friends with the owners and still enjoy supporting our fellow entrepreneurs. 
We were sitting at the bar one night, and I mentioned to a fellow nearby that we don't eat fast food. I wasn't trying to sound pretentious or anything. He'd asked if we had tried some new burger from a fast-food joint. We looked at each other quizzically, and I said, "You know what? I don't actually remember the last time we ate fast-food." 
"How do you manage that?" The man grumbled, as though this was impossible. 
"I guess we're just privileged enough not to have to eat garbage," I said (this, very pretentiously), thinking about our tens of thousands of dollars in looming debt due to a sour business venture. 
*
Lunch boxes brimming with homemade bread. Handcrafted cookies. Made with love. We try to hide the money troubles from the kids, but at 9 and 11, I'm sure they see. They are so smart. Probably from all the greens we feed them. 
Last Christmas was a moderate affair, as far as presents go. Of course, the kids received their Santa handouts and some other little doodads, but it was the food that was the highlight of our holiday season. Then again, isn't that how it should be? 
Sushi was on the menu, as we are non-traditional. Gathered around a table, the kids, James and I rolled rice wrapped in seaweed and dipped yam tempura. They laughed at the terrible job I did of crafting a simple salad roll. We are always on the lookout for new ways to eat well. 
*
We can't vacation in far-away countries. We can't take our babes on weekend getaways, campouts, or spur-of-the-moment lake days. So, we dine over French cuisine made by our own hands and teach our children how to make a mean soft pretzel. 
In moments of self-pity, I cry over what we have lost, and the gnawing memory of having our dreams come true for a split second, and then it all tumbling away. A snowball gaining mass in that unstoppable downhill motion.  
I could throw myself into work and, instead of writing about our failed business, I could speak about happy things like that double rainbow I saw yesterday—there's got to be a fluff-piece in there somewhere. 
I could stop baking and cooking homemade meals because, if I'm honest, that is a part of the problem. Each time I cool a loaf of bread on my counter, I'm reminded of loaves that passed from my hands to my customers. How they would smile and thank me, gushing over how our baked goods were their favorite. Eventually, the diehard patrons nicknamed James and me, Mr. and Mrs. Panini. I'd be out walking the dog and hear a hoot of joy from a passing car, "Hey Mrs. Panini, your cream puffs are the bomb!" All of that is gone now.  
It's these memories that hurt the most. The idea that none of it mattered. The relationships we built with our community, those we served, and the small but mighty customer base we grew could not save the Hot Wire from its fate. The money began to get tight, and then, too soon, it was gone. We were faced with the choice of feeding the business or our children. 
*
The duck's skin is brown and glistening with fat. I am ready to call the kids in for dinner. James is clearing the kitchen table of its daily clutter. I take a moment. I try to imagine our lives differently—something more providential, without the heartache of loss and the humiliation of our failed business venture. I wonder if good food would be such a big part of our family life without the Hot Wire in our rearview.  
Regardless, we will always eat well. I'll take my late-night meal planning and bargain shopping and bulk bins. I'll take my fridge-stacked Pyrex dishes. And prepping with James in the kitchen while listening to Iron Maiden. I'll take this melancholy for now, because I believe that, eventually, all of this well-made food will heal us.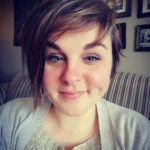 Lindsay Brown lives with her husband and two children in Lethbridge, Alberta. Her work can be found on Slackjaw, The Good Men Project, and Defenestration: A Literary Magazine Dedicated to Humor.  More of Lindsay's work can be found at https://medium.com/@authorlindsaybrown