In the throes of a global pandemic, four childhood friends float in a pool, discussing ways to die: the cancers that run in our families, from breast to blood; heart disease; a freak accident; the sun, heat stroke or melanoma. 
"We are, however, less susceptible to violence with our light skin." My friend's words hang in the air with a heavy pause.
"Isn't it crazy how much is decided before we're even born?" someone else says. "Skin color, family history, even the environment we're raised in."
"The Alzheimer's will probably get me," I say and laugh, like it doesn't terrify me. Like I'm not constantly writing little things down and rereading them. Like I don't dream of a career that relies on my ability to string together memories. Like I don't believe that failure to remember can ruin a person, a relationship, an entire country.
Several states away, my Nana lives in a one-bedroom apartment with her piano, an empty refrigerator, and a mess of old photos. My mother calls her most days.  In the voice she uses with kids, my mom asks Nana if she has eaten. Then, she asks Nana to finish a glass of ice water or peach tea before hanging up the phone.
After a moment, my grandmother sighs. "Oh, all right, dear."
Often, when my mom calls, Nana is packing.  
"Just getting things organized." She sounds stressed, distracted, restless.  
My mom and I exchange a look over the speakerphone. Nana is not convinced that her apartment is her home.
This I understood. I returned home from college in the middle of my final semester and couldn't shake the feeling that I didn't belong. I tore down Pottery Barn Teen décor and photos from friends' bat mitzvahs, leaving holes in the walls. I emptied my closet, donating three trash bags of old clothes to Goodwill. The rest remained in suitcases. I felt adrift. I feel adrift.  
My grandmother spends her days packing and rearranging suitcases due to a misfired signal, like the one that hides her thirst. Loneliness exacerbates her spiral from memory. This virus has taken something from all of us. 
In the midst of a global pandemic and widespread civil unrest, I float in a pool six feet from my friends. Young, we laugh at all the ways the world might kill us: skin cancer, dementia, a rogue respiratory virus. We wear sunscreen, write things down, stay apart.
On the day of my college graduation, I woke at five A.M. and drove to the park in the heart of the city where I grew up. I didn't see another car in all those 1,500 acres. From the hilltop, I watched a vibrant sunrise slow-burn over a familiar skyline and sang to friends watching sunrises elsewhere: my classmates upholding our college traditions, the search for normalcy among the pandemic's upheaval, the stubborn persistence of joy. Greedy for a peace I hadn't felt in months; grateful for another memory to write down.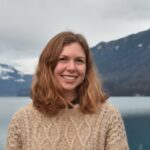 Daniele Skor is a St. Louis native and 2020 graduate of Middlebury College, with a B.A. in English and American Studies. She's found homes in Newark and Colorado Springs as an educator and hopes to continue to write, and teach writing, for many years to come.