I have no cause to grieve the loss of my uterus. I have an abundance of children, all grown, grounded, flourishing. So why was it so hard to see it go, that vessel that delivered life through me and sent four new beings down the gangplank with a little nudge? It was no longer shipworthy, sinking precipitously, and had to be removed from service. But I miss being whole.
That's why I find myself enjoying the occasional sharp twinge deep in the pelvis. I know it's probably just a piece of plastic mesh poking a nerve, or one of the trussed up seams, neatly tucked into place by the surgeon. That's what my ObGyn tells me. 
I like to imagine that the twinge comes from a tiny fragment of my womb that escaped, hid in a dark corner while the rest of its soft home was shredded into ribbons. It watched as cold robotic arms sucked the strands away through an inch-long slit in my belly. A tiny fragment, the memory keeper, stayed behind to remind me of the wonder of womanhood: the budding breasts, the first bleed, the warm damp of lust, the morning sickness, the achy back, the first, fluttery, breathtaking kicks, the heavy, wide-legged walk, the stretch, the toil, the push, the tear, the scream, the rush. I want to relish every bit, every life-affirming inconvenience, every fading hot flash, all reminders of that timeless drama in which I played my role, back in the day. 
Come, pain.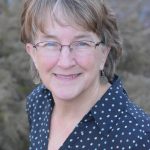 Robin Clifford Wood's work has appeared in Bangor Metro, Port City Life, Maine Public, and Solstice Literary Magazine, which published her powerful essay, "How Do You Help Your Parents Die?" One of Robin's poems has won national recognition and another was produced for audio performance. Wood and her husband live in central Maine with a dear old dog named Clara. Her first book, a biography/memoir hybrid entitled, The Field House: A Writer's Life Lost and Found on an Island in Maine, was published in May 2021 by She Writes Press.  robincliffordwood.com