In my black and white dotted lunchbox, under used napkins and plastic spoons, sat 407 calories, wrapped in plastic. The highlight of my day. I had waited two days for the opportunity to lie on my bed, expectations and standards falling off my shoulders like crumbs. Those 407 calories were mine to taste and then to lose on the treadmill, at the speed of 6.5, height 3.0, after 27 minutes and 45 seconds. 
I opened and closed my lunchbox for the fifth time, expecting the snack to reappear. I blinked and searched, letting my hands graze the borders of the silver fabric. It was not there––this was no optical illusion. By age 17, I had realized illusions that dealt with sugar and saturated fats belonged to my mother, caloric calculator and master in the art of dietary restrictions.
"Mama?" I said as my hands lingered on the shadow the brownie left in my lunchbox. "Mama?" I turned to the white cabinets of the kitchen; I slammed the doors in the silence. The cabinets were empty, as was usual at my house. Empty cabinets and refrigerators. 
Empty stomachs.
"Que?" My mother responded, her voice like the sound of a blender with sharp blades. I knew she was angry that I was yelling; even whispers could be heard through the walls.  
"I had a brownie in my lunchbox. Where is it?" 
"Oh, that was a brownie? You had it in your lunchbox for two days. I threw it away." I could sense her shrugging like it was nothing, stupid chocolate with fudge and chocolate chips buried in the middle. Sweet sugar to melt on my tongue. A luxury replaced with dust.
"Ma. I was saving it." I scowled, rolling my eyes. I closed the cabinet I'd left open. My clenched jaw made my face sore. 
Darkness from the windows made the kitchen burn with brightness, white tiles, ceilings, cabinets, even a white sink. But my eyes were fixed on the black trash can, my eyebrows furrowed. 
I bit my lip. Maybe if I bit hard enough my blood would taste like chocolate. 
Taking a step forward, I caught a glimpse of the inside of the trash can. Above the banana peels, plastic bags, oranges skins, wrappers, and garbage that were too crumpled to identify… was a brownie. Still wrapped in plastic, it looked as if it were sitting on a plate instead of inside the trash. My eyes darted to the windows and behind me. An aroma of rotting trash assaulted my nostrils. My fingers caught the wrinkled plastic and the brownie sat in my fist.
I entered my room, closing the door behind me. I dropped the brownie on the corner of my desk. I kept my distance. Watching. Longing.
Minutes passed. I contemplated its soft texture. I contemplated the pros and cons. Even if I would have to work out in the morning and cover the wrapping with old coffee grinds for concealment, it would be worth it. 
With care, I undid the wrapping. It crinkled, releasing the fragrance of fudge and chocolate. I told myself, Just this once. After this you need to stop. I broke a piece of brownie off, the dark chocolate sticking to my fingertips. 
I placed it in my mouth, savoring the taste of sweet 407 calories, letting my memory capture this moment, this taste, this feeling. 
The door opened. My twin sister Vanessa glanced at the brownie at the corner of my desk. Mirror image to me, she raised her eyebrows and glared. 
"Did you really eat that?" she said. Cringing, she left the room, leaving me alone with the trash brownie. 
Shame filled my stomach. The sweet taste in my mouth turned rotten. All I wanted to do was get the taste out of my mouth. To undo what I had done.
I hated myself at that moment. 
"Sandra? Did you eat that? Sandra?" my mother said, stomping toward my room. 
I grabbed the muffin top that escaped from the waistband of my jeans, gripping it until my skin ached. I wanted my curves and cellulite to be gone. I wanted to carve away every curve, every roll of skin.  
What was wrong with me? For what? The taste of chocolate. 
Other girls did it. They ate every piece of junk food and never gained a pound. I wanted to be like them. I wanted that effortless body, the one they had without doing anything. 
I knew that I could put water on my index and middle finger, prod and prick my uvula until the food rose. I could wait and grab a bucket. I had done it before. 
But I could not do it.
My relatives and family roll their r's with thick tongues to say my nickname, Gorrrrrda—fatty. I long to hear the word flaca—skinny—from their lips.
There are days when I wear crop tops and shirts that show my cleavage and then there are days when my shirts touch my knees hiding my stomach. Sometimes I grab my fat or pretend I am pregnant when I exhale. I pull my fat away from my stomach to see what it would look like if I was skinny, how maybe people would look at me differently. I wonder if I would see someone different in the mirror, someone other than a girl who ate a brownie from the trash can.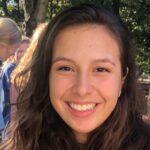 Alexandra Cardona is an 18-year-old first-generation Colombian writer from Fort Mill, South Carolina. Currently a senior at Nation Ford High School, Alexandra is the editor-in-chief of Voices, the literary magazine of N.F.H.S. and a co-editor-in-chief of The Talon. Alexandra has won awards in poetry, design, non-fiction, and fiction from both the South Carolina Scholastic Press Association and Southern Interscholastic Press Association. This is her first time being published.