I knew a short story writer who'd get furious
if anyone ever wrote about rain, as if she owns
raindrops—and she does. And I'm like that
with snow—memories of walking off of our
roof onto the snowbank without any falling,
digging a tunnel to get to our mailbox and
how we'd walk backwards to school, the ice
hanging off of our lips, and three relatives who
froze to death: a drowning, lost in the woods,
falling asleep drunk in an alley, the snow
landing on their bodies the same way that
it used to land on mine, and the mine near
our house, how the iron ore that blocked so
much of the sky would be covered in white,
this white false mountain, with my grand-
father giving his finger to the mines, and
my uncle telling me that the mountain was
made up of all of the body parts of all of
the miners from all of history, the white on
top of them all melting slowly so that when
spring came I expected to see a monstrous
pile of legs and hands, but I just saw the ore
that stained our shoes and mittens and rivers
and, by that time, my uncle was long dead.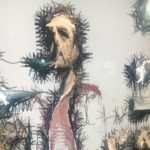 Ron Riekki's books include U.P. (Ghost Road Press), Posttraumatic (Hoot 'n' Waddle), and My Ancestors are Reindeer Herders and I Am Melting in Extinction (Loyola University Maryland's Apprentice House Press). He co-edited Undocumented (Michigan State University Press) and The Many Lives of The Evil Dead (McFarland), and edited And Here (MSU Press), Here: Women Writing on Michigan's Upper Peninsula (MSU Press, Independent Publisher Book Award), and The Way North: Collected Upper Peninsula New Works (Wayne State University Press, Michigan Notable Book).