It's been a long week, and we're all excited to be out. Excited to be eating our dinner without a small human on our laps. Excited to not be needed for a few hours. Excited to be among friends. One of us has put in fifty hours at the office this week. Another is finally pushing pause on the endless hours of simply being "Mom." More than one of us is harried from spending our week constantly switching hats in that in-between world that promises flexibility, but most days just feels like another juggling act. We are all desperate to talk. With grown-ups. About grown-up things.

We end up talking about our kids, of course. One of us has a one-year-old who still won't sleep through the night. We tell her to hang in there. This too shall pass. One of us has a daughter in the throes of thirteen: raging hormones, strange music, and all. We order her an extra drink and send up a prayer that we'll know what we're doing by the time we tackle the great unknown of teenagerdom. We talk about all the gymnastics meets and baseball games and band recitals. How we are so over it. How we wish the school year would end just a little earlier than the calendar dictates.

We don't talk about the kids who didn't make it to their recitals. The kids who were almost just exactly the same age as our kids. The kids who never met the end of the school calendar. The kids who aren't going to see those harrowing teen years. We don't talk about how we'd all, privately, considered keeping our children home from school the next day, even though it happened hundreds of miles away from our school district. One of us doesn't mention that she'd googled "how to homeschool" that night. One of us keeps it to herself that she searched Amazon for bulletproof backpacks. Another of us fails to share that she'd had a panic attack after dropping off her son the next morning and had to pull over to the side of the road until she could breathe again.

We don't talk about any of these things, though they threaten to spill over at any minute, like the overfilled pitcher of margaritas sitting on the table between us. Maybe we think that not talking about these things will make them less true. Maybe we just can't go there on this, our one night out—our one break from carpooling and working and breastfeeding and cooking all the dinners. But more than one of us wonders if, really, the reason we don't talk about those kids is that we can't actually believe it would ever happen in our small, safe town. All of us think that maybe we've cracked the code. We've chosen just the right school district, the best region in the country, the perfect neighborhood. We've made all the right choices. And all those right choices will keep our children safe. Yes, that awful thing couldn't happen here. It just couldn't.

But then one of us wonders if maybe there were half-a-dozen moms sitting around drinking margaritas last week in that place so far from us, thinking the same thing.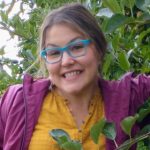 Alexandria Faulkenbury's writing has been published in Front Porch Review and HeartWood Literary Magazine, among others. She holds an M.A. in literature from East Carolina University and lives in central New York with her husband, two rambunctious kids, and one ornery dog. More of her work can be found at alexandriafaulkenbury.com.