The star is beautiful. No, beautiful is too simple. She is ethereal. She is moonlight, and her rugged co-star is a snow-capped mountain. No—she's an orchid, and he's a bend in a lazy river. You are an extra seated across the plane's aisle. If the leads are moonlight and mountains and orchids, then you are wallpaper. You and the other extras are, as your acting coach Sergei contends, the blurred face of humanity. On this doomed flight, there are three stars. The white dove and the thousand-year redwood. The last star is death—that's where you come in. The director kneels in the aisle, his voice hushed. He speaks moonlight. He speaks mountaintop. None of them look at you. None of them notice the wallpaper.

Wardrobe has matched you with a pantsuit, and as the director and his stars huddle, you think about your character. Sergei says every role deserves a story, even if you're the only one who knows it. Today, you're a businesswoman, a traveler. It's been a hard week, but now the businesswoman is returning home. There are people there who love her—but of course it's more complicated than that, and for a moment, you glimpse this woman's depth. A valley. A sunless cavern. Her secrets and regrets. And you lift these currents into your pantomimed exchange with the flight attendant, into your window-gaze as the clouds bristle with lightning.


The dreadlocked girl from SFX creeps past. "Smoke, smoke," she says. Her fog machine hums. The mist obscures your feet, your knees. "Action!" the director cries. "And . . . turbulence!" Beneath you, the spasm of hydraulics, and the shaking blurs your vision. You clutch the armrests, your spine pressed into the seat. Red light pulses on the windows. The mist now blood. This world on fire.


In the cavern's shadows, a man, flowers in hand, waits in a distant airport, and with him, a little girl who misses her mother. If you—the real you—died on this plane, there'd be no lives made emptier by your subtraction. Behind you, a lover who wanted more than you could give and a ghost child unborn. Behind you, a childhood of chaos, the footsteps of giants. A thousand casting calls, and you've never been mistaken for an orchid. The hydraulics sigh and the plane's tail lifts and there's no turning back now and your rent's past due and Sergei says he's not running a charity service and you swear to God you'll jump from the Golden Gate before you crawl back home. "This is it!" the director shouts, and you're going to die, all of you save the snowflake and the wind-swept plateau, and you hear Sergei, his voice a thread beneath the rattle when we wear our characters' skin, that's when we're the most alive and there are no lines for an extra, and all you have is your body and this moment and you hold tight and scream into the face of an onrushing world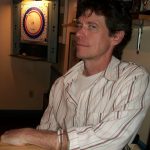 Curtis Smith's most recent novel, The Magpie's Return, was named one of Kirkus's Best Indie Releases of 2020. His next novel, The Lost and the Blind, will be published in September 2023.