Have you ever seen a walrus fall from the sky? Forced to find space on a crowded melting glacier, the walrus scales steep ice cliffs. Unfortunately, they have poor depth perception. Seeing the ocean, they leap from the bluff, blubbery bodies cartwheeling through the air before plummeting into the sea below. Some survive. Others don't.


To be clear, I won't be analyzing walruses or climate change for this textual analysis essay. I just thought the anecdote worked well for my attention-grabbing hook. The literary text I'll be examining is "Essay One" by Angela Abaya Ono. Yes, this essay. The assignment prompt defines literary text as "novels, stories, poems, and essays," and nothing says we can't analyze ourselves. Anyway, I'll be evaluating the essay for credibility, bias, and use of rhetorical appeal.

First, the writer of the essay is incredibly credible. In high school, she made honor roll every semester except one, when her grandmother passed away and her history teacher refused to grant her an extension. The writer has also distinguished herself outside the classroom. In sixth grade, she designed a portable toothbrush, which took second place at the Invention Convention and which might have actually won had her classmates (and their parents) read the DO NOT TOUCH sign and her booth hadn't been splattered in blue peppermint paste.

In addition to her credibility, the writer is also completely unbiased. You could read her entire essay and not know she was a STEM major—if she hadn't disclosed such fact herself (this is all becoming very meta, #sorrynotsorry). Instead, she reveals a deep appreciation for the written word. She's read many books, including all the Harry Potters, and she's kept a private journal since she was ten. It can be inferred that she entered English 101 without any bias against English courses, English professors, the English language, or the English people themselves. Rather, she entered the class hoping to learn to better express her thoughts and feelings in words.


Though unbiased, the writer does rely on a rhetorical appeal to pathos. She accomplishes this by summarizing her personal history. Eighteen years ago, Angela Ono was born in the Philippines, yet she never once stepped foot on the island. She was adopted before she could walk. Raised in South Jersey by Japanese parents, she grew up eating fish sticks and sashimi, SpaghettiOs and soba noodles. One Halloween, she dressed as Barbie. The next as a bento box.

Though she never understood why she had been given up, she always understood she had been adopted. Still, when anyone asked her what she was, (which people often did), she always answered Japanese. It was easier than explaining—but it wasn't the truth.


When she turned eighteen, the writer took a DNA test, hoping her genetic code would help her decode who she was. The results only caused more confusion. The report said she was Filipino, Chinese, Spanish, Portuguese, Mongolian, and Polynesian. She had no idea what—or who—she was.


To find out, she made a big decision.


Purita means pure of heart. At seventeen, Purita Abaya fell in love with a boy named Bo. Bo means to live—which doesn't really have anything to do with the worthiness of one's heart. When Purita became pregnant, Bo left her, and his family gave her parents money for an abortion. But abortions were (and remain to this day) illegal on all 7,640 islands of the Philippines.


The writer learned all this over email, with the help of Google Translate. Purita did not speak English. The writer did her best to translate her and Purita's words.


For weeks, the two exchanged increasingly personal messages. They spoke about college life and classical music, the rules of Filipino Mahjong, and the importance of Santo Niño de Cebú. Purita sent family recipes for the writer to try—pork adobo and pancit noodles and pinakbet, which is boiled vegetables with fermented anchovies (the writer characterizes Filipino food as an acquired taste). One day, Purita asked for a photograph. The writer emailed one of herself, holding her viola, standing by the soccer stands. In return, Purita sent one of herself, wearing a straw hat, standing in the mud of a rice paddy. She had almond skin and black hair and cheekbones out to here. The women in the pictures looked nearly alike. Together, they devised a plan for the writer to visit her birthplace.


A week before this essay was due, Purita stopped responding to the writer's emails. The writer sent multiple follow-up messages and received no reply, until two days ago—from a man she had never met before and whom she did not know existed. He claimed to be the writer's uncle by blood. He said his sister needed space, that everything was moving too fast, and to leave his sister be.


Of course, anyone could have been the author of the message. A husband Purita never mentioned, or Purita herself, or perhaps a child she had not given up, tired of her mother's tears.

As has become the condition of her life, the writer will never know.


In conclusion, by analyzing "Essay One," one can recognize the writer's rhetorical purposes. The first: to explore how we are constantly reborn in response to the least expected forces. Someone analyzing DNA samples in a science lab. A message from a person a world away. A school assignment a student had every intention of completing.

The second: to persuade her audience that despite not strictly following the rules of the essay prompt and her arguably broad interpretation of "literary text," she did, in the end, understand the assignment—and therefore deserves at least a B minus.
Dear Professor Dan: I thought about requesting an extension. Then I realized I did what the prompt asked. I wrote. I didn't stop until I realized that Purita probably doesn't know if she made the right decision. She probably sat with little children all around, scanning the adoption paperwork, glancing at her newborn child, and imagining all of the impossible possibilities—or perhaps all the possible impossibilities. Not unlike the walrus, standing on the cliff, gazing out to sea.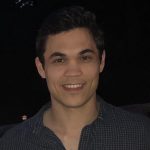 DANIEL ABIVA HUNT is a Filipino American writer from South Jersey. His stories and essays appear or are forthcoming in The Masters Review, CRAFT, Portland Review, New Hibernia Review, and elsewhere. He recently won honorable mention for The Masters Review 2021-2022 Winter Short Story Award for New Writers. He previously served as assistant fiction editor for Gulf Coast, and he is currently a Ph.D. student at the University of Cincinnati, where he teaches and studies fiction.