Stiff and cold fingers mourn
The keratin rupture
For a loot of half-moons
On the husband's charpai frame
Crescent marks & lunulae
Sit sanguine, the proud
Spoils of his night's labor
And an empty glass of
Turmeric milk stands on
A chinioti night-stand
My dowry's rosewood organ––
The vestal white lamb
Hitched to a charpai leg
Bleated and kicked all night
But I'd need four witnesses
By Zia's ordinance
My word as good as the lamb's.
The midwife says it's a baby
Heavy as my husband's coins
Sunk into my heir granting
Wishing well womb
Like the one in the backyard
Its waters contaminated
By his sixteen-year-old wife's
Blithely floating corpse
Whence the water deity
Fortnightly hymns to his mardangi
Hers, an accident.
Rub raw my insides with
Wash cloth & pumice stone
The crawling sensations inch
From womb to rib & bone
It is not parasitosis
If you call it yours, call it child
My body a live host with the perfect pedigree
Fair-skinned and compliant
"جی جی، ہاں بلکل! جیسا آپ کہیں"
"Yes yes, of course! whatever you say"
With a lineage of inbred ancestors
Trained to uphold the patriarch's honor
Which lies in my torn Daman
In every fold of my shalwar
Bred and fed for this day
An incubator, nameless female cavity
The in-laws tolerate my whims
As the commands of their future heir
Autarch homunculus
"Give her two rotis
She eats for one and a half"
The neighborhood women
Smelling of ginger and condiments
They bring prayer books in Arabic
Potions made of holy basil
Chants to recite after fajr
& a black Ta'wiz round my neck
Let it be a boy
Let it be a man
A shadow of His father
The cause of His pride
Nobody talks of it.
I am once more laden
Heavier than the last
Eating more dates
A few inches broader
"Talk only to mothers of sons
Ask them how they managed the feat"
Of willing a Y chromosome
An ithyphallic child into existence.
It's monsoon season
And the well fills with rain
Keechar sticks to the underbellies
Of skittering olive-green frogs
Crickets stridulate for a mate
And the women in the well linger
They live on
In the melanistic fawn
In the pale sawan flowers
Their invasive roots
And all, who drink from the well
Where I might end up too
Rot in rot, ribs interlocked
Quenching the thirst of a fawn
Nourishing blooms that die too soon
Their diluted voices beckon
To the well!
My child,
Dead long.
––
Charpai: a traditional woven bed used in South Asia.

In Pakistani and Indian culture there's a tradition of serving turmeric milk to the groom and sometimes to the bride too on their wedding night, it's considered an aphrodisiac that increases strength and improves performance in bed.

Chinioti: from the chiniot city in Pakistan, popular for its wood furniture
Zia's ordinance: reference to a set of laws called "Hudood Ordinances" enacted in Pakistan by military dictator Zia-Ul-Haq, it was used to charge women for adultery when they were raped and failed to provide four male eye witnesses of rape as a woman's witness was considered half that of a male.
Mardangi: Urdu word for manhood/masculinity
Daman: hem of shirt
Shalwar: traditional Punjabi pants
Roti: south asian flatbread
Fair: the dawn prayer in Islam
Ta'wiz: amulet for blessing/protection
Keechar: mud
Sawan: fifth month in the Punjabi/Sikh nanakshahi calendar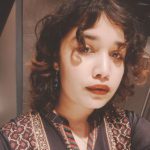 Mashaal Sajid (She/Her) is a poet and freelance Illustrator from Rawalpindi, Pakistan. Her work has appeared in Visual Verse, Maintenant 15, Rigorous Mag, The RIC Journal, Wrongdoing Magazine, GenderIT, and other publications. You can find her at @aqua_seafoam_shame on Instagram.