My parents never smiled with their mouths open for pictures when we were kids. Their teeth were crooked, and a few were missing. My brother and I had crooked teeth, too, riddled with cavities. We learned early to close our mouths for the camera, but sometimes, we forgot. 

Dad's dental insurance from the Maine State Employees Association covered us kids. Almost every check-up led to more fillings. Our dentist was a thin, sallow man who I don't recall smiling unless he was being sarcastic.

"How long do you brush?" He asked one day when I was eleven or twelve.


"Um, two minutes?"

He looked at his wristwatch and chanted, "brush, brush, brush…brush, brush, brush…brush, brush, brush…" At the end of two minutes, he fake-smiled at me. "Is that how long you brush?"


"I don't know," I replied, blushing and near tears.


Shame lived in my mouth.
***

Once upon a time, birds had teeth. Archaeopteryx, widely thought to be the common ancestor of all modern birds, sported teeth and feathers. Plying the skies 100 million years ago over what is now Germany, this diminutive winged and feathered dinosaur had a beak full of sharp, conical teeth in its upper jaw. 
***
Tooth decay is the most common chronic disease of childhood, and kids in poor households are twice as likely to have cavities as those in higher-income homes. My brother and I were lucky to get fillings and fluoride treatments. Our teeth didn't rot in our heads, unlike what happened to many truly indigent kids, and our parents. 

One day when my mother was in her forties, her boss at the insurance agency where she worked as a secretary took her aside. A meticulous balancer of the books and magic on the phone with customers behind on their premiums, she was, nonetheless, kept at a desk in the back. It wasn't just her weight; it was her train wreck of a smile.


The boss offered to pay to have her teeth pulled and replaced with dentures. She took him up on it. My father, seeing the results, got his own set of false teeth. In a photograph from the mid-1970s, my mother, slimmed down after one of her many crash diets, her hair teased and frosted, perches on my father's lap in front of the Christmas tree. She's wearing a short blue polyester dress and sheer black stockings, her legs outstretched to show off her newly slender calves. He's in a dress shirt and slacks. They're both beaming with their mouths wide open, their new teeth gleaming.


I had some dim sense at the time that my brother and I needed braces. My cousins had them, as did many kids in my high school college prep classes, but I don't remember our parents ever discussing getting them for us. Was it that insurance didn't cover the exorbitant cost, or that our dentist never mentioned braces to our parents? I don't know. But I remember feeling two things at once: the sour taste of shame over my uneven teeth, and deep relief that I wouldn't be going through the notorious torture of braces. 
***

Teeth are made of four tissues: cementum, nerve-laced pulp, dentin, and an outer layer of glassy enamel. 

The teeth of carnivores have evolved to shred flesh, while those of cows and other ungulates grind plant material to pulp. Rodents' teeth are constantly growing, which explains the relentless gnawing of mice and squirrels. The teeth of their cousins, beavers and porcupines, are fortified with iron, giving them an orange tint. Opossums possess fifty teeth, more than any North American mammal. As omnivores, adult humans have thirty-two permanent teeth: eight incisors, four canines, eight premolars, and twelve molars including wisdom teeth.


Birds, it turns out, still have genes to make teeth, but evolution switched them off more than 100 million years ago. The enamel gene went dark 116 million years ago. The silencing of the dentin gene is harder to pinpoint. 
***
Two years after I graduated from the University of Maine, my crooked teeth and I moved to Boston, where I landed a writing job at a Harvard teaching hospital. My new dentist was tall and jocular, a jazz lover like me, and a gospel singer who played Isaiah in "Black Nativity." I confessed my shameful family history of awful teeth. By that time, my brother's neglected teeth had rotted, and he, too, had dentures. I told the dentist I wanted to keep mine. He sent me straight to an oral surgeon to look at my wisdom teeth. All five of them (I had an extra one) were so impacted in my tiny jaws, he knocked me out to extract them.

I was dating Tom, a bearded, auburn-haired artist from Massachusetts who had nice, straight teeth, as did his three beautiful sisters. Braces were a given in their family. His mother, Carol, took care of me after I had my wisdom teeth pulled, making me smoothies and delivering them to me as I recovered in a brass bed under a white comforter printed with pink rosebuds.


A few months later, after Tom and I got engaged, Carol offered to pay to have my teeth capped before the wedding. I was of two minds: accept my unphotogenic grin as a badge of authenticity, or have a new and improved Cinderella smile.


I said yes.
***
In birds, teeth gave way to a dazzling array of beaks. Made of keratin, the same protein found in hair, feathers, and fingernails, beaks have evolved with exquisite precision. For instance, the whimbrel's long, elegant down-curved bill, fits perfectly into the burrows of fiddler crabs, one of the bird's main food sources in winter. The black skimmer's spring-loaded underbite automatically snaps shut as it dips fish from the ocean's surface. The list goes on: the famously specialized beaks of Darwin's finches, the woodpecker's jackhammer and the raptor's dagger, the heron's spear and the hummingbird's nectar-extracting needle.

I have watched whimbrels probe the wrack line on a September beach in Maine and witnessed skimmers gliding over the waves after sunset on the Gulf Coast of Florida in March, filling the air with raspy barks. This winter, crossbills, rosy, robin-sized birds with the most bizarre bills among all the finches, are down from the north, fluttering in musical flocks right over our rooftops. On a walk through the middle of our village, I hear them and raise my binoculars to watch as they use their overlapping bills to pry open tightly shut spruce cones—the only bird who can do so. I've marveled at a pileated woodpecker hammering a log as chips fly, a sharp-shinned hawk dispatching a junco, a great blue heron spearing up a shiner.


Watching these and other birds, I have envied them for ditching the bother and agony of teeth. I have wished for the elegance and efficiency of a beak.
***
A watcher, a witness, that's what I am. I, however, don't like being watched. I want to blend in and observe. But someone was watching over and witnessing me: Carol. 

"You keep your mouth closed when you smile," she said one day as we looked at photos from a recent family vacation. "That makes me sad."


The capping was a temporary fix. It was too late for braces, but there was another option: Porcelain veneers. A long, expensive procedure. My mother-in-law again offered to pay for it.


I said yes again and found myself at my third dentist, a close friend of my husband's family and an Irish-Catholic-Buddhist. He informed me that my new smile would require six months of root canals and crowns, gum surgery, and healing. I went for it. All through those long hours in his chair, he told me to breathe through my belly. We discovered we both liked country music, especially Dwight Yoakam, and found inspiration in the writings of Buddhist teacher Pema Chodron.


"I've got something new," my dentist said one day as he slipped a pair of video glasses over my eyes. I watched Seinfeld episodes during root canals. With the help of Jerry and Elaine, Pema and Dwight, Tom and Carol, and god-only-knows how much novocaine and a little Ativan, I survived my smile rehab.
***
Scientists initially speculated that birds lost their teeth to shed weight, making it easier to fly. But others pointed out that bats have teeth. Another theory posits that teeth take a long time to develop in embryos growing inside eggs. The longer the incubation period, the more vulnerable eggs are to predators. So perhaps birds swapped teeth for a relatively short incubation period, giving offspring a better chance of survival.

Still, why birds lost their teeth remains a mystery. 
***
The last photo of my family together was taken by Tom the year before my father died. It's a bright green day in early May, the month most birds return to Maine. In the picture, I'm wearing a red-and-white checkered shirt that's a bit too snug across the chest, and my brother sports his favorite saggy denim overalls. My mother wears her uniform, a t-shirt over floral stretch-pants, and my father sports a striped polo shirt and khakis. All of us smile with our fake, perfect teeth. 

Two fir balsams my father planted when my brother and I were born tower behind us. Ferns unfurl beneath the balsams, and drifts of bluets dot the patchy lawn. No birds are visible, but I imagine them beyond the frame. A rose-breasted grosbeak cracks open sunflower seeds at the feeder. A great-crested flycatcher plucks a white moth from thin air and swoops back to its nest in a dilapidated bluebird box in the backyard. A ruby-throated hummingbird sips nectar from a pot of scarlet petunias. Birds surround us, each with a perfect beak.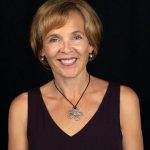 Maine Native Kimberly Ridley is an essayist, contributing editor to Down East, and author of books about nature for children and adults, including The Secret Stream (Tilbury House, 2022) and Wild Design: Nature's Architects (Princeton Architectural Press, 2021). Her essays have appeared in anthologies including Breaking Bread: New England Writers on Food, Hunger, and Family, edt. Deborah Joy Corey and Debra Spark (Beacon Press, 2022). She lives in Brooklin, Maine with her husband, the painter Thomas Curry.