One could argue that the chief contributor
to the violence in your country is your
silence. One could argue that the silence
in your mouth means you are eating
without chewing. Walking on the street
late in the evening, carrying your bag
of groceries, your wallet weighing down
your loose shorts, does it bother you
that you might be different? One could argue
that this kind of bothering makes us all
the same. Somehow the cyan of the elevator
walls triggers your sneezing. And so the inside
of your mask is up close and clinging, moist
like a lover's licked face. Much like
Pavlov's dog, my fist unfurls into greasy
palm every time someone says—erotic.
One could argue that this condition
is called hopelessness. A hot bath helps
if you are looking to erase the fingerprints
of desire. One could argue, only temporarily.
One could argue that this poem has already
wasted a precious minute of your life.
One could argue, but it was reading the poem
that made the minute precious in the first place.
Why are you looking up and apologizing?
There is no argument for the sky's blue. Oh, wait—
coz the hues of blues are scattered more
than other shades? Damn. Here, try these goggles.
They are powerless, yet scaffold the scriptures
of your unique life singing inside your temples.
One could argue, in the contest between faith
and reason, there is always that third party
winner: mystery. Speaking from personal
history, the one who argues is the one
who loves. Argue with me. I've been waiting.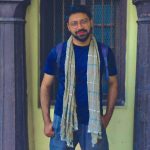 Satya Dash is a recipient of the Srinivas Rayaprol Poetry Prize and a finalist for the Broken River Prize. His poems appear in Poet Lore, ANMLY, Waxwing, Rhino Poetry, Cincinnati Review, and Diagram, among others. Apart from having a degree in electronics from BITS Pilani-Goa, he has been a cricket commentator. He has been nominated previously for Pushcart, Nina Riggs Poetry Award, Orison Anthology and Best New Poets. He grew up in Cuttack and now lives in Bangalore, India. He tweets at: @satya043