Come celebrate  come celebrate     that everyday
PUT_CHARACTERS_HERE_ that everyday   something has tried  something has tried
PUT_CHARACTERS_HER       to kill                  me            to kill               me
& has failed                                                 
                                                                        & has failed
PUT_CHARACTERS_PUT_CHARACTERS_PUT_CHARACTERS_Oh something has tried
& failed?
PUT_CHARACTERS_PUT_CHARACTERS_///
Sisters,
I invoke you—
PUT_CHARACTERS_PUT_C_Let's  gather in poem &  lay to rest
those we've lost to violence.  Their souls are rest-
less, so I give these borrowed words
PUT_CHARACTERS_PUT_CHARA_as libation    so they may drink
A thing    crafted in love                & may we also be quenched of our unrest.
Picture a woman full of alive —
picture a black woman so full of alive
we abandon the streets and come to a halting rest.
P_C_Every dream begins
                                       with a dreamer    …                 P_C_begins with a black
P_C_woman who lays to rest in her apartment and wakes
PUT_CHARACTERS_PUT_CHARA_P_C_up the next morning.
Picture her picturing herself
picture her picturing a daughter        picture her daughtering history
PUT_CHARACTERS_Harriet, Sojourner, Phyllis, Toni—
PUT_CHARACTERS_PUT_CH_& all the rest             & all the rest.
What to do with the knowledge that our living is not guaranteed?
What to do with all this life    & its touching               of death?
What to do until we can all meet again in the kingdom of touching?
I've wrestled
PUT_CHARAC_grief and it left me a bruise                 that turned
first   from red to purple  to brown   but  I must heal    Oh I must
Can somebody please sing me a black girl's song?
PUT_CHARACTERS_PUT_CHARACTERS_///
Sister Ntozake:
PUT_CHARACTERS_this is for colored girls        who've had the holiness
PUT_CHARACTERS_PUT_CHAR_of their breaths released from their bodies.
this is for a colored girl                          PUT_CHA_somebody's walked off with all of her stuff
yes         all her poem and all her dance        all her breathing stuff         all her breathing
this is for colored girls waiting at the end of the rainbow
PUT_CHARACTERS_PUT_CHARACTERS_HERE_how do we reach for them?
PUT_CHARACTERS_PUT_CHARACTERS_///
Today we sing a song of sorrow.
PUT_CHARACTERS_HERE_We  open the waterwater.
Waving   forever.         We are alive forever.      Even in death we are
PUT_CHARACTERS_HERE_PUT_CHARACTERS_HERE_PUT_CHA_alive.
PUT_CHARACTERS_PUT_CHARACTERS_HE_///
Sister Nicole—      Sit us in our  skins &       let us wait for our  names to be called by that sea of god-voices
Pull us from this never ending eulogy        and place us on your tongue    & if you can
PUT_CHARACTERS_PUT_CHARACTERS_PUT_CH_speak us to life            speak life to us…
PUT_CHARACTERS_PUT_CHARACTERS_///
Sister June — gather our leavings      & sit with us on a stoop in Harlem
Tell us words & we will echo:
I am not wrong     I am not       wrong
is not my name         wrong is not         my name  is my own is my own
is Breonna, is Toyin, is Atatiana, is Sandra, is Mya, is Alexia, is Miriam, is Gabriella, is Shantel, Venus, Malissa, LaTanya, Sharmel, Kendra, Shelley, Margaret, Eleanor, Kathryn, Alberta, Danette, Frankie, Tanisha, Michelle, Pearlie, Sonya, Kayla, Shereese, Tyisha, Shaneque, Kyam, Shalby, Gisberta, Rekia, Aiyanna, Tarika, Carla,  Meagan, Janisha, Aura, Yvette, Duanna, Nizah, Charleena, India, Meagan, Janisha, Natasha, Renisha, Shelly, Shulena, Alesia, Shereese, Kendra, LaTanya, Danette, Sonji, Teena, Amanda, Gwen, Nireah, Janice & all the rest      & all…
Voices: Sister Lucille Clifton from the poems won't you celebrate with me  and blessing the boats
Sister Ntozake Shange from the choreo-poem "for colored girls who have considered suicide / when the rainbow is enuf"
Sister Sonia Sanchez from the poem Haiku and Tanka for Harriet Tubman
Sister Aracelis Girmay from the  poem Elegy
Sister Nicole Sealey from the poem Even the Gods
Sister June Jordan from the poem Poem about My Rights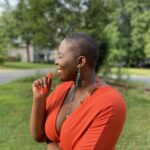 Honora Ankong is a queer Cameroonian-American poet. She is currently a Virginia Tech MFA in poetry candidate. Her works exist in and explore the liminal space where her identities intersect. She is constantly complicating and reimaging the confines of the African Diaspora. She has work forthcoming in the Peregrine Journal, Lolwe, Glass, The Swamp, and Mineral lit.