This time, open the bag of flour instead of trying
to hide behind it. This time, break the eggs
without crying for the birds that were never born.
The frosting is sweet, which is how life is, sometimes.
The frosting is sweet, which is how life isn't, many times.
Try your best to believe someone will add sugar
to your disastrous recipe of a life. Try your best
to believe the scent of vanilla will ease the fluttering
of your heart. Add the baking soda with a sense of faith.
Mix the ingredients without believing someone will die soon.
Mix the ingredients realizing that some days you will place
the pan in the oven and it will rise or not rise. You just
happened to be there, you didn't cause the cake to fall.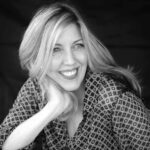 Kelli Russell Agodon is the cofounder of Two Sylvias Press where she works as an editor and book cover designer in the Pacific Northwest. Her fourth collection of poems, Dialogues with Rising Tides, is forthcoming from Copper Canyon Press in 2021. See more at www.agodon.com.