Today I have grief for breakfast— reach my tongue
out of my mouth & lick
my own tears. I'm keeping the whole      of me.
I call up a friend and we talk about black
woman paradise— somewhere between starshine
& clay.
We lay there undead                             rest in the peace of knowing
nothing here wants us unalive. Today I want to play Thee Stallion
but play Nina instead   miss Simone hums something about hanging
fruit bodies. She harvests me                         kisses the noose burns off my neck.
Today           I get my acrylics real long: stiletto neon green— strut
out of the nail salon      grinning at admirers     yeah I'm alive
& blooming. I fashion my mouth
to shoot arrows:
No— you can't have my body         no— I'll die on my own terms.
I still ain't learned to swim but I'm bikini clad sipping
on something fruity
& sweet     getting all parts of me wet. I take two
lovers to bed— the three of us        tangled into a black
church. We worship our god loud & unashamed       she's a living
god   we are living       we are alive with mouths agape in want.
Today I am a black woman venerated     being loved out loud
& I'm loving black women   back to life.
Loving black women back
to life         today I'm loud in my veneration.
I am a black woman in want
mouth agape       yelling we are alive      we are living       god!
We are alive
& unashamed            worship a tangled worship.
We bloom into a green thing          a church of three & all parts
of us are wet                             yeah, we're alive & grinning
our mouths into arrow-words:
Yes— you can have our bodies            no— we'll die on our own terms.
Today I'm all neck—   a hanging fruit body
reaching for miss Simone      & Thee Stallion
is there too       rapping something about being sweet
like suga    & we're all undead. We're three    & naked     covered in starshine
& clay
we are black    we are black women   we are black women in black woman
paradise           alive & whole. Today          we are whole
reach our tongues out of our mouths        lick our own tears.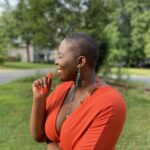 Honora Ankong is a queer Cameroonian-American poet. She is currently a Virginia Tech MFA in poetry candidate. Her works exist in and explore the liminal space where her identities intersect. She is constantly complicating and reimaging the confines of the African Diaspora. She has work forthcoming in the Peregrine Journal, Lolwe, Glass, The Swamp, and Mineral lit.