I had never once thought of my period these past six years, its kicks and strains; the crimson prints stamped into my Levi's—not until I, walking 600 East in Salt Lake City, stumble upon a memorial, rounded with peeling Doric columns, a 1930s marker from the Daughters of Utah Pioneers: Although willows grew along the banks of the streams, a Lone Cedar Tree near this spot became Utah's first famous landmark—a gravesite for a lost tree, all roots and no leaves, even the trunk missing, made off with by vandals, and what of the missing stream, paved over, hot asphalt glaring back the sun?
I'm sorry
Stoppered up by a prong, metal suspended in a warm place I have never seen, the softness of my core, mine is the first body in a long-line of Mormon women to not have a child, to question the divine mandate to bear children, a myth as beautiful and untrue as the Lone Cedar Tree, likely a juniper, which neighbored seven wind-swept cottonwoods, back when creeks flowed, boundless and swollen, roaring, with visible caps during snowmelt, past the tents and homes of the pioneers, enduring, clawing up sego lilies for food, sometimes gathering at the Lone Cedar to sing hymns, utter prayers of gratitude—a place where toddlers scampered beneath sap-covered branches and lovers met in secret, the woman, no doubt, always mindful of her period, of a raw nature she cannot control, in a strange and faraway world that I would very much like to glimpse, I realize now—in the scorch of late summer, sneakers hard against a tarmac without so much as a whisper of water left above ground—a period missed, when a tree could be a cedar or a juniper, both evergreens, when streams ran wild, without complication, carving up the blooming desert…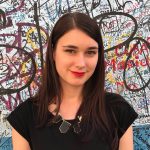 Rachel Rueckert is an MFA candidate at Columbia, where she also teaches Contemporary Essays. She is hard at work on several book projects. You can follow her writing on Twitter @Rachel_Rueckert or on her website rachelrueckert.com.