My mother called on a summer day while I was riding my bike. This call happens once a year, sometimes twice. Always on her terms.
So I stopped to walk.
"Hello?" I lifted my voice to sound chipper and bright. Not angry that I was going into debt to pay her mortgage. Not resentful that I had become her legal guardian in my twenties once her delusion disorder worsened. Not bewildered that we could still have this annual call when behind the scenes I had to forge her signature to pay her bills, or that a month ago I was on the phone with the police to convince them she wasn't capable of navigating her hit-and-run in the Dollar Tree parking lot, or that she had not answered her front door in seven years. Like a child, she hid, imagining that if she could not see you, you did not exist.
"Oh, hello!" she said.
I wished her a happy fifty-eighth birthday — wondering if this was perhaps why she returned one of my messages — as I pushed my bike with one hand, the pedals periodically scraping my calves.
"How was your first year of school?"
I was surprised she remembered I'd been accepted into Columbia's MFA writing program.
"You always taught us the value of education," I said, eager to compliment, keep her on the phone. I wanted to hear her voice, to imagine this was a thing we did.
The wheels of my bike spun and clicked, the same red bike I was riding along Hunting Street a few years earlier when it occurred to me with startling clarity that my mother, as I knew her, had died. We talked about the weather, her rescue dog, and whether or not my sister was old enough to get married.
She sounds lucid, I told myself as I passed the hospital I had recently called, yet again, to reschedule my IUD removal. On long walks, I'd been rehashing conversations with my husband about the timing of a potential child. Six close friends were pregnant and showing. A good man from a good family, my husband tried but did not grasp my fear and ambivalence about motherhood—both becoming one and what it would feel like to parent while taking care of my own mother. He believed children were "good, beautiful, and natural." My shoulders hunched when he veered into romanticism.
I decided to ask my mom something real, even if it stretched the limits of our game. Perhaps there was still something I needed from her.
"What were your pregnancies like, Mom?"
She gave me a tour through her trimesters with a coherence I had not heard in years. "For your brothers, I was only nauseous during the first months. I had no troubles with your sister. But with you, I was sick the whole time."
"Really," I said, surprised at the sudden burning behind my eyes.
"But women don't get sick anymore," she said, a bit too quickly. "They have medication now. They don't let women suffer."
I pretended to believe this beautiful lie.
She asked when grandkids were coming. My sister told me recently that Mom imagined I'd already announced a pregnancy, and that she was buying a year's worth of baby clothes at thrift stores, which she hoarded in the basement closets.
"Maybe in a year or two," I hedged, hiding in return, reminding myself that not even a baby would bring her back.
"Maybe sooner," she said confidently.
Soon, the act finished. Mid-sentence, she went quiet. Mom used to scratch at the microphone to make a crinkling noise into the speaker. Now, she simply goes mute, unaware that I can still hear her breathe.
I played my part.
"Mom, are you still there? Mom? Mom?"
The sound of her breathing.
"Mom, I think I lost you."
I waited a second before ending the call, then climbed back onto my bike and rode on.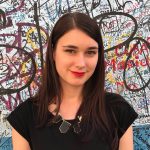 Rachel Rueckert is an MFA candidate at Columbia, where she also teaches Contemporary Essays. She is hard at work on several book projects. You can follow her writing on Twitter @Rachel_Rueckert or on her website rachelrueckert.com.