On the trail together, my husband hands me a piece of quartz
that I examine then plunk back into the creek. It sounds
like a fish gulping. At the bridge, the grandmother does not follow
her family down to the river. She has been there before, has seen
its coffin-shaped rocks. The moss and lichen clutch the bank,
repeat the leafy shadows on the stones, a kind of echo to the light.
She remembers how quartzite flashes and dazzles from the leaf litter, roiling
beneath the river's frothy stormswell. She remembers when the falls were called
McAffee and when the mountain laurel was spoonwood, when fog on the hillside
sipped the sour smell of mash, its steam sidled up to the lips of a whiskey jug.
Does a name matter? Ask a red-tailed hawk, a white-breasted nuthatch. Ask
wood anemone, its white petals pulsing in wind. Ask the furry anthers inside bloodroot.
She remembers how the rain washed out the old stone roads and turned them,
like a plow, into streambeds. What is owned and what is owed?
The stone roads remember the wagon wheel and collier's sled, which remember
the white oak, which remembers the sawmill, which remembers the millrace,
which remembers the millpond, which remembers the tadpoles, which remembers
the plunk of a turtle as it slips into water, remembers the bedrock that once was sea.
A blue jay's call tears through the air, startles the woman back to herself. Inside her
four-chambered heart, the iron in her blood pulls her, pulls us, leaning towards the mountains.
The green riverlight courses through our bodies down over the stone into the water.
It's not a struggle to return to this land that hooks you like a high sycamore limb.
Your bark flakes off in brittle pieces. Your seedlings fall soft as beaver fur.
Like the miracle that is a morel, I leave them for the next season.
This is how we carry away a mountain, stone by stone. A breath of charcoal
settles like chalk on the limbs. And even from here I can hear a train.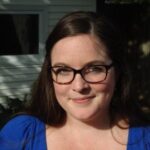 Kentucky poet, educator, and folklorist Sarah McCartt-Jackson has been published by Indiana Review, Journal of American Folklore, Bellingham Review, and others. Her poetry books include: Stonelight, Calf Canyon, Vein of Stone, and Children Born on the Wrong Side of the River. She has served as artist-in-residence for Great Smoky Mountains, Catoctin Mountain, and Acadia National Parks. She teaches poetry and kindergarten. www.sarahmccarttjackson.com.