Listen: I could tell you the places I've been, the waters between. I could tell you of ocean after
ocean, of boats like those quaint wooden ones people long ago must've trusted to ferry them
through gorgeous, deadly distance. 
 
…
 
The sort of day I merely exist, rain which should be falling stuck up there in clouds; I've made
the mistake of glancing myself across the mirror, and getting caught in my eyes, unnarcissine
(but the waters only rising); piecemeal, I pluck hairs from my face til my fingernails crack and
my fingertips bleed, nearly joyous in the unsinking hope of arriving; and I say this is what I
want;
 
…
 
Listen: I have a million stories to tell, about navigating, about how once when I was young I got
so seasick I swore I'd never set foot on another boat again, boyhandsgirlhands shaking right
there at the edge while I tried to keep from puking because even then I knew it was something to
look composed. How people once believed a somber old man would deliver you kindly into hell
when you died and no one made it out; how pollution and runoff turn Galveston Bay so green
you'd almost picture drowning a plentiful thing, how the dolphins (though mired in water, muck)
seem so free having never touched ground.
           
…
 
When my grandfather joked that trans people should be "put out of their misery" (ha), I wanted
to escape myself like a pilgrim who refuses her return, a thousand miles of unabashed tumult
always between me. What I didn't understand: where you go, you carry yourself with you. And
besides, where is there to go?
 
…
 
Gale and downpour, human souls regretting themselves, ships going down in the shallows;
staying adrift and never leaving, riding the crest and fall of joy in a heart woven nearly too small,
nearly triumphant; a heart whose blood runs hot at the pleasure of becoming; at the horror;
 
…
 
Listen; there's so much I wish I could tell you, if only I had time and feet firmly planted on
fertile soil; after pretending for far too long that pain is sacred when I do it right, proud to be
scarring; many times having gone on living, many times mistaking lakes for oceans and toes so
very cold the whole of me shivering and longing to be moored, heaved homeward, listen, you
don't know how precious it is just to hold still, limbs throbbing, seasick in aftermath, alive, day
only just dawning, still more than a little lovely.
 
…
 
Soft boat. Leaf boat. Small boat opening on the inside, roomier than you'd think, illumined in
blue. Boat carrying a hundred lost faces you can only wonder where. Boat rushing to sail away
before the salt gets in. Muddy boat. Pine boat. Boat now decrepit, though once good enough.
Sunken boat stuck in sand, and all the more indifferent. Steel boat full to the brim with souls like
mine I'll never know. Kind boat. Luminous boat. Boat which rises on the waves, majestic, like a
deepest smile composed of its opposite. Euphony, boat docking despite chipped paint and a
dozen leaks, passengers soaked through disembarking. Bone boat with life draped over, headlong
in the only direction there is.
 
…
 
Listen—by day I crawl out of skin, putting on what looks remarkably similar, covering with soft
and loamy layers of cotton and wool; by night I cover further and sleep for five and a half hours,
dreaming of becoming or of being, (in dream skimming across water, ten thousand miles and ever
getting nowhere, and ever rejoicing, and ever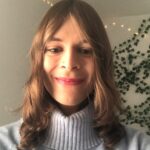 Lilia Marie Ellis is a trans woman writer from Houston. Her work has appeared in publications including The Nashville Review and perhappened. Her microchap Love and Endless Love is forthcoming from Giallo Lit. Follow her on Twitter/Instagram @LiliaMarieEllis!