With delicate spider silk we're threaded together,
though you are dead, and I am here feeling your burn
in my right hip. It's a protest song—the one you screamed as they
rushed you to your death. Or the one your daughter
hollered as she tried, tried to get there but could not
because that was the day, the day the city decided to tear up her street.
These songs ignite my rusty gears, my potholed bones.
I crack and swell with you when I move.
Your anger is a burning light in between my ribs.
I've tried, tried to heal us. To give you permission
to quit me—but you return day after day, as an ache, untouched.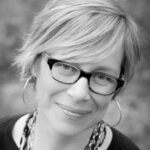 Jenny A. Burkholder's poems have appeared in North American Review, New American Writing, The Spoon River Poetry Review, and, Glimmer Train, among others. Her chapbook, Repaired, was published by Finishing Line Press in 2016. Her creative nonfiction essays have appeared in the online issue of So to Speak: A Feminist Journal of Language and Art, Epiphany, and The Healing Muse. She lives in Elkins Park, Pennsylvania with her two daughters, husband, and dog, Maizey.