Allen, J. F., and Carlo Tora. The New Illustrated Children's Bible in Stories. Royal Publishers, 1970.
PUT_J 220 New; Bible stories, English — Bible stories, English–juvenile literature.
PUT_SEE also: Parenting–religious aspects — Free thought.
This book, given to my sister by a family friend, sat on a bookshelf in our house. I liked the pictures of the animals, and I thought Jesus was pretty.
My parents couldn't decide what to do with me. After much grandparent pressure, I was baptized in the Episcopal church when I was seven. This is my first memory of being inside a church. I didn't connect the pretty Jesus to having to go to church for the baptism. I just felt uncomfortable in a dress with everyone looking at me. Forty-eight years later, I can count on two hands the number of times I have been inside a church: 2 funerals, 4 weddings, and 1 blessing of the animals.
Stellhorn, A. C. Schools of the Lutheran Church–Missouri Synod. Concordia Pub. House, 1963.
PUT_377.8 STE; Lutheran Church-Missouri Synod-education — Lutheran Church-Missouri
PUT_Synod. SEE also: Brainwashing — Deprogramming.
I haven't read this book. I don't have to because I was in an eighteen-year relationship with someone raised in the Missouri Synod of the Lutheran Church, and that's all I need to know.
Things I learned from my father-in-law (not really "in-law" because there was no gay marriage then):
Acupuncture is voodoo.
Dancing promotes devil worship.
Not all his children will join him in heaven.
I am invisible.
When informed of number 3 in the annual family Christmas letter, my girlfriend said, "If I die and my father is there, we aren't in heaven."
Adler, Margot. Drawing Down the Moon. Penguin Group, 1979.
PUT_299.94 ADL; Witchcraft–United States — Goddess religion-United States — Cults.
PUT_SEE also: Lesbians-United States-20th Century.
In the eighties and nineties, if you were a lesbian or hung around lesbians, you couldn't avoid lesbian witches, lesbian tarot readers, lesbian Unitarians, lesbians with prayers and crystals and sage.
I stiff-armed anything that even resembled religion. I became an expert in eye-rolling.
When the assistant manager in the bookstore where I worked burned sage to clear the store after the CEO had visited, I thought she was nutty but that it couldn't hurt.
I began to long for something that would provide answers about the world. In some ways, I envied my coworkers and their faith in burning sage and in goddesses and the tarot. Yet, I did not seek membership in their club. Instead, I preferred the two Donns who had a public access television show about wrestling and would dress up in velvet smoking jackets and carry pipes.
Beck, Charlotte Joko., and Steve Smith. Everyday Zen. Harpers, 1989.
PUT_294.2937 BECK; Zen-Buddhism — Zen — Religious life-Zen Buddhism —
PUT_Religion-spirituality. SEE also: Life change events — Life change events-religious aspects —
PUT_Epiphany — Anger-religious aspects-Buddhism
A colleague lent me a copy of Everyday Zen after I told her I had been looking for a way to be less road ragey.
On page 87, the author shares what I now realize is a quite common story in Buddhism. She has the reader imagine that they are out rowing in a boat on a foggy day. Out of the fog comes another boat. The boat crashes into your boat. You are mad. You just painted your boat. You are yelling and angry, and then you notice the boat is empty. What happens to your anger? It collapses. She asks you to imagine there was someone in the boat. Then what happens?
It was so clear that I had been conducting my life as if there were someone in the boat. I shared the passage with my girlfriend at the time, and we started labeling things Empty Boat. Someone cuts you off on the road? Empty Boat. Neighbor starts mowing at 7 AM on a Saturday morning? Empty Boat. Even things that felt more personal got labeled. Go to visit the in-laws, and her father greets everyone in the room but me? Empty Boat.
Salzberg, Sharon. Lovingkindness: The Revolutionary Art of Happiness. Shambhala, 1995.
PUT_294.344 SAL; Compassion-religious aspects-Buddhism — Meditation-Buddhism —
PUT_Happiness-religious aspects-Buddhism. SEE also: Life change events —
PUT_Anger- religious aspects-Buddhism.
After the Empty Boat strategy solved my road rage problem, I wondered what else I could fix. I sought out more books on Buddhism and I found Metta, or lovingkindness meditation. Metta is a practice where you pray for yourself, then you pray for loved ones, then people in your sphere like the postal carrier or fellow riders on a bus, then you pray for everyone, and then you pray for a difficult person in your life. By pray, I mean send good wishes, send love.
I practiced Metta for ten years before experiencing a traumatic accident on my Vespa that left me with multiple wounds, broken parts, and a brain injury.
I sent the driver of the car love. I sent love to the lady who was driving behind me and thought I was dead as they put my motionless body into the ambulance. I sent love to my rehab doctor, who rode a scooter to work every day and thought she was an exception. I sent love to my girlfriend, who was trying to hold it all together. I sent a lot of love that year.
Williams, Florence. Nature Fix: Why Nature Makes Us Happier. W.W. Norton, 2017.
PUT_155.9 WIL; Nature-Psychological aspects—Environmental psychology—Creative ability.
PUT_SEE also: Awe.
Three years after my accident, I moved to Asbury Park, NJ, at the time a scruffy seaside town down on its luck. I was single after eighteen years and negotiating a brain injury and loneliness, and the question that hung over me every day, what's going to happen to me? My brain had healed enough to get a job, and I passed a miniature donkey farm on the way to the library where I worked. I said, Hi donkeys, I love you.
The accident bought half of a condo, and it didn't matter that I passed boarded-up apartment buildings on my dog walks or that I saw syringes and empty booze bottles across the street on my neighbor's lawn. I could see the ocean from my balcony, and it calmed me; even when it was dark and roiling, its energy powerful, saying listen to me, and I did.
Gay, Ross. The Book of Delights: Essays. Algonquin Books of Chapel Hill, 2019.
PUT_814.6 GAY; Joy—Life. SEE also: Me.
I live in Rhode Island now, just half a block from Narragansett Bay. I'm married to a woman who brings ridiculousness into our quiet home. In the last half of my life, I have left a debris field of loss behind me, and I know I'm not done. At 56, I have already lost one friend and have two others living with grim prognoses. I'm losing my mother to dementia, and though I know I have entered the unending season of loss, I delight. I delight in Ross Gay and his delights. I delight in my dog, who insists on morning meetings. I delight in spring's unfurling skunk cabbage and my new bike that I ride pain-free. I delight in falling back in love with poetry and finding Danez Smith, Tommy Pico, Chen Chen, Tiana Clark, Frannie Choi, and so many more. I delight in my neighbor, who gets into his car at 7 AM to smoke weed and sing along to songs that would surprise you. My favorite is "Tiny Dancer." And then, a workman's truck pulls up, and the music gets cut off, and he exits his car and climbs into the passenger side of the truck. I delight in knowing that "Tiny Dancer" is in his veins, swirling through his body as they rattle down the road. I delight in reading poetry and laughing out loud, and my wife asking, what are you reading? I delight in the old guy I see at the beach day after day, three seasons a year at least. He rides his bike right up to sand, lies it down, strips down to his bathing suit, and wades into the bay. I delight in rolled oats with a little brown sugar. I delight in drag queens and cider donuts. I delight in the convenience of frozen cherries. I delight in Dolly Parton and all those books she's given away. I delight in the fact my father is still there to call about car questions and that our conversation always ends with talking about art. I delight in knowing that the Donns are still out there in the smoking jackets writing skits about wrestling, and my friends are making music and planting gardens and building things. I delight in reading glasses. I delight in knowing that the man who hit me is out there, and I send him love. I send love to Ross Gay and the donkeys and even my ex-father-in-law; may he rest in peace. I delight in it all.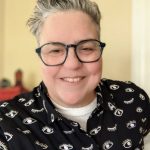 E. A. Wilberton is a poet and librarian. They are currently a student in the UMass-Boston MFA program. They have work in Critical Read, Rattle and forthcoming in Shenandoah. They live in Rhode Island.