The river stones are listening.
             —Yusef Komunyakaa
For Nasrin Shakarami, Nika's mother
تلخ bitter is the afternoon, and minutes
away from midnight when they 
they are the street corner
where her mobile phone
is silenced for good, the post-mortem, 
nine days and nights in a morgue
where perspiring walls
preserve forensic details—
the truth on a toe tag
the once smooth and rolling slope
of her skull depressed
to a hollow
broken cheekbones loosely housing
scant teeth.
they are the repeated and again
سرکوب  sarkoob
سر  sar as in a daughter's head unveiled
luring light.
کوب  koob is the pounding momentum
of nightsticks.
The rest of her, Nasrin, you say, was سالم sâlem,
as in wholesome her fingers, thighs, the lengths of her arms
her soles, the torso stitched shut.
they are sin committed before the first light
on the tenth day,
نجس najes the ambush on the dead,
the unchaste pairs
of hands on the gurney after your hands, Nasrin,
had dressed her
in three pristine sheets of کفن kafan,
after rites and ablutions, after the warm stream
had run its course down the right then left
length of her and left her
scented with camphor and prayers.
they a grave hacked through the shallow
roots of thorn
and thistle, the haste, a hearse and daughter
lost in a convoy of country dust
before the first azan.  
تلخ bitter now the silence
on your street, Nasrin, شیرین shirin, the truth
of a nation on your lips.
In a house in mourning
rows of gladiolas
are lined up against the wall now, stiff swords
in tall buckets,
their tips catching inklings of light 
Endnote: Four days after the death of Mahsa Amini on September 16, 2022, Nika Shakarami, 16, was chased and killed by the Islamic Republic of Iran's security forces during the street protests in Tehran. Her death was concealed from her family for nine days. On the ninth day, the family was allowed to prepare the body for burial. On the tenth day, Nika's body was stolen from the morgue and buried in secret in a remote village. Nika's uncle and aunt were arrested soon after and coerced into false confessions claiming Nika had fallen to her death. In a video recording sent to the news outlet Radio Farda, based in the U.S., Nika's mother, Nasrin Shakarami, risks her life in recounting the truth regarding the circumstances around her daughter's death.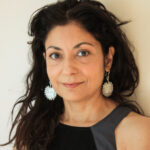 Rooja Mohassessy is an Iranian-born poet and educator. She is a MacDowell Fellow and an MFA graduate of Pacific University, Oregon. Her debut collection When Your Sky Runs Into Mine was the winner of the 22nd Annual Elixir Poetry Award.