When I think of that winter, I think of the emptiness of the mattress above me and the sounds I stopped hearing from underneath it. 

My sister was a loud sleeper. She tossed and turned a lot, often banging against the wall against which our beds were pressed. My mom would send me to bed an hour before her, hoping I would be asleep by the time she went to bed so that we didn't keep each other up. But I was always awake to feel the slight vibrations of her feet on the wooden ladder. I listened to the dip of the mattress as her body sank into it. 

Often, I could only get myself to sleep by singing. Sometimes, she'd pound repeatedly on the wall to get me to stop. Sometimes, when I didn't hear her climb up to the top bunk, I'd press my two feet up into her mattress, feeling for the weight of her, and, reassured, fall back asleep. 

After she died, I continued to do this, though I knew she was gone. Without her body's weight, I could lift the whole mattress up. 

We emptied the house of her things, but my mom left the furniture that held them. The bunk beds, her dresser, her desk. The room was heavy with empty furniture. My mom took all of her sheets off the bed to wash and then remade it. I kept asking her when she was going to get rid of the extra bed. She kept telling me she would when Dad agreed to help her. It would be too hard to carry down the stairs by herself.

Though I knew she was gone, I still heard her sounds. At night, I heard the mattress squeak as if a body was shifting, the sound like a pulse quickening. I imagined the springs inside practicing their small movements, soldiering beneath the surface to hold the shape left by her body-print. A pin-screen impression. 

With no body to sink into them, do the springs forget how to hold? Do they lose their ability to bend under weight, to support it? 

When someone dies, so much goes still or forgets its purpose. My younger brother stopped talking at school, and his teacher recommended a speech therapist. My mother's knees forgot how to hold her upper body. Her face and neck fell forward in a pile, crumpled and crying into the carpet. 

I forgot how to sleep. I needed a fan on full blast and an industrial-grade air purifier the size of a tire. I filled the room with loud air. 

I miss my sister's sounds above me. I miss the small vibrations of wood, the assurance of her return. I miss the sound of her elbows banging on the wall out of annoyance, how her legs kicked. When she was just a body with meaningful weight who still slept and dreamed and twitched. When she was someone sleeping, someone who would wake up in the morning.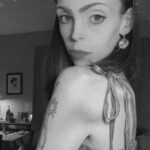 Juliet Wenzel is a writer and educator originally from Arizona. She studied English-Creative Writing at SUNY Geneseo and currently lives on Long Island, where she teaches preschool. In her writing, she explores her own questions about the complexities of bodies, memory, and lasting grief. You can find her online: IG @julietttrose23.