At the Common Ground Country Fair, I finally get to babysit a real baby. "Push her around in the stroller for a while until she falls asleep," says the mother, a friend of my parents who runs the spinning booth. I feel like I have been given the doll of my dreams: soft, heavy, vulnerable, and resilient. I push her past the blueberry rosette stand, past the bandstand where a fiddling contest is just getting started, and past the strongman game, in which participants have to heave a sledgehammer heavier than the baby I am now in possession of and slam it down on a rubber stopper that sends a small weight up along a scale, either into the sky—thus proving strongman status—or hardly at all. Most people do best on the third try. On the first, they miss altogether; on the second, they overcompensate and miss again. They all grunt and whistle at the weight of the hammer, which kids my size can't even move. I stand watching, listening for the occasional ding of the strongman, pushing the stroller of the now sleeping baby a little forward, a little back, as I have often seen parents do, until finally, the baby sleeps. 

Earlier this year, I wanted a baby so badly I adopted an eggplant from my mother's vegetable stand at the farmer's market, but it eventually rotted under my covers. Box Baby wasn't heavy enough. Rock Baby was heavy, but you could see right through the magic-marker face I gave her to the bits of driveway and rocks I'd stuffed into her plastic-bag-body. Only in the beginning could I swaddle her in a blanket, close my eyes, and lift her to me, saying, There now, it's all going to be okay, and still believe it. 

I keep walking; I want this baby all to myself. I want to be alone with her so I can feel how heavy she is. Under the bleachers of the grandstand, on the other side of which an ox-pull is taking place, I undo the safety belt and shoulder straps and lift her from the stroller. I want to feel her real, perfect weight landing in my arms, so I toss her a bit—as you see parents do—to see in her face the excitement of being alive, to see her almost fall, to rescue her every time. She is a heavy sleeper, only now just waking, and so I keep tossing her. Every time she lands in my arms, I say, "I've got you. I've got you," in that voice parents use with babies they are tossing. I hear another voice through a megaphone announcing the increasing weights the oxen are pulling on the other side of the bleachers: "We've got a good pull on 4800 pounds. Now 5000, folks, 5000 pounds…" My voice weaves itself quietly, from underneath hundreds of fans, into the rhythms of the ox-pull announcer; the giant, square weights, chained together, skidding across the dirt behind the sweat-stained oxen; and the rhythm of the baby going up and down, into and out of my arms. I want to freeze this frame of the baby above me, me underneath the baby, one hundred percent sure she will come back. I want to stay here forever.

But the last time I toss her, she flies just a tiny bit too high. I can hear, or see, or somehow feel that she has hit her head on the bottom of the metal bleachers—iron bleachers, or maybe steel bleachers. She is really awake now, taking pauses from long, almost silent wails to gasp for air.

I want the baby to be okay again, so I put her back into her stroller, buckle her in, and start walking, more quickly now, knowing the faster I move, the more likely she'll be still. I walk by the giant hammer and the blueberry rosettes and then double back once more, having made up my mind not to return the baby to her mother until she is quiet. I hurry past the sheep, the giant looms, the solar-powered barns, the thresher, and the old-time tractors on which my brothers and I spent that very morning battling other children for a seat. A few people offer concerned looks, but nobody bothers to stop me or ask whose baby I am pushing or why she is crying. Finally the baby is so tired of screaming that she conks out.

Later, on the ride home, I will imagine the mysterious bruise that will form on the soft part of the baby's head and then disappear and, much too soon—if they noticed it at all—everyone but me will forget. But for now, I push the baby back to her mother, who is still chatting with my mother about wool and, in particular, mohair—how wonderful it is to spin and knit, or even just hold for a while, weighing almost nothing.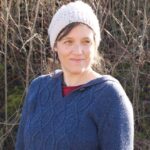 Molly Bashaw's book of poetry, The Whole Field Still Moving Inside It, was published in 2014. More recent work has appeared in The Sun, The New Yorker, The New England Review, River Styx, and The Iowa Review. Originally from upstate New York, Molly has lived abroad since 2000. Currently she teaches languages and Literacy in Würzburg, Germany, where she lives with her husband and daughter.