Shine on Harvest Moon
And who knows, anything can happen, during the harvest moon if I survive that long. In montauk, over the waters that turn green, then, blue, then white like the irises of lavender flowers that blossom in your upturned eyes, and the stores, cafes, restaurants, grocery shops, are peopled by summer whites, and khaki, and back blues, red corduroy shoes, pink windbreaker color of salmon, three cafes out of five play 90s music as we are all serviced by colored people with tropical accents, is Jamaica town, with anglos playing paradise island, if you squeeze your lips tight enough, if you can waft pass the longk-ilynd accents you can transport yourself to montego bay. I, am a blk girl, here only a creative visa to a six-week Fellowship, would not live on this east hampton plantation, no. I am in an art colony with four other artists, all from the BIPOC, LGBTQ+ communities, all who speak at length on women's rights, and their art makes a political statement, and who, each and every one bullied hard and with such satisfaction, I quietly vomit onto my blanket. I cannot stay awake or sleep. I cried three times today… it's time to go home to dream. And who knows, anything can happen, during the harvest moon, if I can survive that long.
Conversations at the Beach
This morning on my bike, on my way to the beach
I felt you a
gain, babe, sitting on the bones of a bleached gray log that could pass as a giant's bong pipe, or its nostril, a tiny golden bug clings to my tablet, and I politely nudge it off as  a webbed gull ignores a blond rasta couple scattering crumbs to its friends, the gull, choosing to walk in front of me,  parades back and forth as if to speak, but cannot quite make up its mind what to say,  and then hops on the same log, looks directly at me and I dissolve into tears. once more a tiny golden bug clings to my tablet, but this one is filled with fire engine-colored blood.
Magnolia
When I see you again, the magnolia will have died, the ants will search for sugar, white petals size of teardrops, dry into a fine red dust, and I am lost, this is why I could not see you already, blue breezes hesitate. When I see you again, the torch of the song of the blue jay, the battery of wood,    
pecker, translates as ancient spring, I am a new species, footsteps clamor past, the days, I held out both hands for bread.
After the Storm 
Today they blocked off the beach, a storm on the way, at the beach, a golden housefly, the flying insect with wings, of spackled platinum, lands on these words, I can feel you, sad, still touching me down there only a fleeting minute 
the beach has eroded to froth, foam, georgia okeefe swatches hang over the landscape, a holographic crone and skies the color of the stone's hair, I sit between two poles, perched on the sand, leeches are swimming towards me, why must I be split, why must you, the sand resembles a graveyard, two huge whitened tree logs like enormous pieces of driftwood or a giant woman's bleached hipbones, sea curling at the tide, and the sound, invite repose, a slumber, the mist, a nightlight, the hushing waves a lullaby, what if I just laid down in the sand right where waters tumbled over each other, like a mother tucking in the many blankets of duvet… sshhh, I could do that, and when my body washes back to land, again , softened by waves, dulse, rock, sea greens, hermit crabs knotted in the web of my hair
why, could I be mermaid, I could be sea glass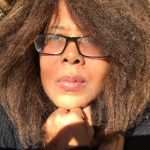 Kathy Z. Price is an author, poet, and musician. Her latest literary picture book, MARDI GRAS ALMOST DIDN'T COME THIS YEAR (Atheneum, 2022), about Hurricane Katrina, received starred reviews from Horn Books, ALA Booklist, and Publisher's Weekly. An earlier book received favorable reviews in The New York Times and was a Children's Literature Assembly Notable Book.
Idaho Review, North Dakota Review, Tri-Quarterly Review, Bayou Magazine, Cincinnati Review, and Pleiades have featured her work. She's a two-time Pushcart nominee and has been a fellow at the NY Foundation of the Arts, MacDowell, Hedgebrook, Edward Albee Foundation, and Cave Canem.