The wrinkled dome which houses this land is a
lithograph.
Lightning splinters it. A reproach.
Two years and a day after we
recited cities,
I watch you leave with her,
the carnival-haired lovely, with her
20­20 vision and deliciously filthy mouth,
and my chest is a torrent of mint leaves.
There is an ire, a
curse beckoned by candles. A
hunger.
It knows no lull.
These words,
with their furred tongue,
their insolent sleep.
An adjective is not just facile. It
is a manacle.
I think
sometimes
it is better to say the
essence, to say, simply, the sky is beautiful today
or
please, don't touch her, for, you see, I love you
or
you've taken something from me and I want it back
instead of reaching always for the poetry like
a spear.
First published in The Dirty Napkin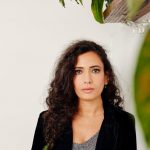 Hala Alyan is a Palestinian American writer and clinical psychologist whose work has appeared in The New York Times, Poetry, Guernica, and elsewhere. Her poetry collections have won the Arab American Book Award and the Crab Orchard Series. Her debut novel, SALT HOUSES, was published by Houghton Mifflin Harcourt in 2017, and was the winner of the Arab American Book Award and the Dayton Literary Peace Prize. Her second novel, THE ARSONISTS' CITY, was recently published by Houghton Mifflin Harcourt.