He took a week to gather his things
and move into my body. Not what
we'd packed in his coffin. Pickaxe,
Maine gold, tourmaline, his dog's ashes.
Only what would not press for space. Breath,
curses, dreams. I couldn't explain. I tried,
said I was inhabiting my body as a snake
does its skin. I said I woke to eye sockets
deep as lookouts in a stone wall. I said
I was a portal. I could have saved myself
time and scratched-out lines if I'd grabbed
a slip from the plate of platitudes tucked
among the platters on the reception table.
He will live on in you, or some such
hollow comfort.
PUT_CHAR_HERI am his means
as I press my face into lilacs, bend
to the deep sweetness of peonies. He
especially thrives near armored rugosas
growing along the salt-scented shore.
Thorns drawing beads of blood, stones
rattling with each withdrawn wave.
I wander through the park at night. Falls,
pungent, river-rich, tumble and foam
over ledge to the harbor. Laughter,
chatter from moored boats and restaurants
open late. Around a corner, he stops me.
A bank of hydrangea, a crowd of blossoms,
each an ungodly armful, glowing
white like a hundred moons.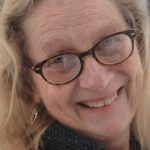 Elizabeth Tibbetts' book, In the Well, won the 2002 Bluestem Poetry Prize. Say What You Can was published by Deerbrook Editions (2019.) Her awards include a Maine Arts Commission fellowship and grant. She lives in Hope with her husband and two "simply wonderful" (Kate Barnes' words) dogs.