This distressed pair
of cut-off shorts
once belonged to
my best friend's high-
school boyfriend.
My favorite tank top?
A t-shirt, sleeves
sliced away, traded
with a stranger
one summer, dark
of the dive bar
hiding whatever we
might want hidden.
All of our clothes
are falling apart.
Did you know
ravel and unravel
mean the same thing?
………Each day a new stray
thread brushes
the back of my knee.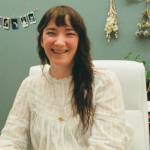 Erin Rose Coffin holds a Master of Fine Arts in Poetry from North Carolina State University. Her work has appeared or is forthcoming in Raleigh Review, Hunger Mountain, Gulf Stream, Arcturus, Angel City Review, and Punch Drunk Press. In 2021, she won the Ruth Stone Poetry Prize, judged by Tomás Morín. She lives in Charlotte, North Carolina, and is a member of the Goodyear Arts collective.