Jean 'Binta' Breeze died on August 4, 2021. Her work as a dub poet and great performer is legendary. Less so (though no less deserving) is her turn in her later writing to a number of narrative, lyrical poems that celebrated what she called "the simple things of life." Unabashedly sentimental, loyal to a tee to Jamaican life, Jean had a party and happy-go-lucky side that meant when she walked into a room things brightened by several notches.
I've known her since the late '80s.  Her life and poetry enriched the scene of the arts and added immeasurably to the quality of what counts for poetry.  My poem enacts some of her phonic and sonic tricks, and embodies a smidgeon of her biography, not to mention large dollops of her spirit (so I hope). You can read it from left to right, naturally, horizontally, and I encourage vertical readings down the various columns. To see the columns correctly, it's best to view this work on a laptop or desktop.
~Fred D'Aguiar
I cannot in this life      figure that middling day         outside of the summer
P_C_HSouth London basked in         that made me squint up         at your window blind
PUT_C_HERas I rang your bell three times
static waiting for youP_C_Hmade me ring long again        Me nat no mawnin gal
P_C_Hyou yawned as I glanced        at my watch hands aimed       way beyond twelve noon
PUT_C_HERI was on time for our lunch
you bowed and waved me inP_C_Hsleepily offered tea     (you mock-toff say tayee
P_C_Has if dispensing                       rare Appleton rum)     I forget what else
PUT_C_HERin that two-story terrace
in your upstairs rental             back in the late eighties          when poetry readings
P_C_Hcalled gigs in backrooms        got you piss for pay P_C_HERif you attracted
PUT_CH_HERless than a sad sack of drunks
all our roads forked for           forked sake (no knives) both forks taken at the same time
P_C_Hdrank pints warm fingered chips wrapped in yesterday talked mouths full
PUT_CH_HERsorted Apartheid Pales-
-tine Greenham Common       burned baby burned the proverbial candle
P_C_H(that may/not have been         a badly rolled pass-     the-dutchie outsized
PUT_CH_HEREspliff) at both unfiltered ends
aid travels with a bomb      you said a transistorP_C_H broadcasts on transmitters
P_C_HEburied in your head P_C_Hmy psychiatricP_CH_Her   training could defuse
PUT_CHA_HERhow I could/should not refuse
you were just Breeze to us   grabbed audiences byPC_Hhand/waist/nervous brain stem
P_CH_Hwhirled us to a swoon         lyrical BintaPU_CH_HERverandah after-
PUT_CHA_HERnoons graced your yard greetings Ma'am
Now Jean I take you up        under the over ofP_C_HEyour days above doorbells
P_C_HEMoment by moment P_C_Hpooled across decadesP_Hfill us to the brim
PUT_CHA_HERour lives past pass passing quick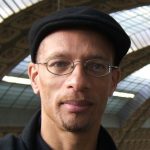 Fred D'Aguiar was born in London in 1960 to Guyanese parents. He grew up in Guyana, returning to England in his teens. He trained as a psychiatric nurse before reading African and Caribbean Studies at the University of Kent, Canterbury. He was Judith E. Wilson Fellow at Cambridge University and has been shortlisted twice for the UK's T.S. Eliot Prize. He is also the author of six novels, the first of which, The Longest Memory (Pantheon, 1994), won both the David Higham Prize for Fiction and the Whitbread First Novel Award. His plays include High Life (1987) and A Jamaican Airman Foresees His Death (1991), which was performed at the Royal Court Theatre, London. Mr. Reasonable was broadcast on BBC Radio 4 in 2015. Letters to America, his eighth book of poetry, appeared in 2020 and was a UK Poetry Book Society Choice. His memoir, Year of Plagues, was published by Harper Collins in 2021. Currently, he is a Professor of English at UCLA.