My husband kicks our dachshund puppy out the back door because she has peed a quarter size puddle on the living room carpet. At less than a few months old, this mishap was to be expected. Nevertheless, he rustled her to the back door, scooped her up with his foot, and threw her into the snow shouting profanities that would later be described to our two children as easily forgivable frustration. 
They forgave him, of course, and hugged him. 
Through a window, I observed the puppy shivering and circling until she found a spot where she felt safe enough to pee. My husband told our children that she needed to remain outdoors for a while to become accustomed to the cold. She needed to adjust. It was a lesson she should have learned by now.
He was right. She needed to learn—and learn quickly. 
But she didn't. Instead, she became more nervous and peed indoors frequently. 
After about six months of this, my husband finally took her to the vet where she was diagnosed with bladder malfunction, which he then described to the children and me as a pre-existing condition and explained that we could not afford the medication to treat it. 
He promptly shot her in the head and buried her in the woods. Afterward, my husband hugged our children as they grieved together over her grave. 
I stayed in the house and watched a boiling pot of spaghetti noodles go from stiff yellow limbs to limp white tentacles, the steam bathing my face in faux sweat, stirring rigorously as though this transformation demanded all of my attention.
In fact, it did.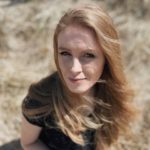 Kimberly Ann Priest Kimberly Ann Priest is the author of Slaughter the One Bird, Sundress (forthcoming 2021), Still Life, a finalist of the the PANk Little Books contest (forthcoming 2020), Parrot Flower, Glass Poetry Press (forthcoming 2020) and White Goat Black Sheep, Finishing Line Press. Winner of a 2019 Heartland Poetry Prize from New American Press, her work has appeared in The Laurel Review, The Berkeley Poetry Review, The New Delta Review and others. A New England College MFA program graduate, she is an assistant professor at MSU, and associate poetry editor for the Nimrod International Journal of Prose and Poetry. You can find her at kimberlyannpriest.com.