First day, near the end of a one-hour dive rotation. No sharks. A November plankton bloom has reduced viz to 20 feet, if that. Vastness of the sea compressed tight around the shark cage. These waters of Isla Guadalupe are known for their clarity, like an inverted sky, you were told. So you feel rooked by these conditions. 

You are one of four divers in the cage.


Waiting.

Emptiness like a dreary woolen haze. 

The coldness of the Pacific eating through your 7mm wetsuit, hood, and gloves, while you stand like an astronaut anchored by a 60-pound weight vest. There are no scuba tanks. A hose connects you to an air compressor aboard ship. With every inhale, there's a Darth Vaderesque wheeze from your regulator, then on the exhale a jangle of silver bubbles, rising, called to the light.

Right about then, an underwater cloud seems to gather. Perhaps a trick of the light, you think. But the cloud tightens, a wavering shadow that assembles, sharpening as it nears, until an outline of the dorsal blade shreds the gray veil of your doubts, 15 feet of great white coming in like a U-boat on routine patrol. A male, by the claspers under the belly. He shifts his head toward the cage and, though his movements are lethargic, arrives with uncanny swiftness. His two-toned shading, gray above, white below, hulks along the front of the cage, a pectoral fin almost rasping the bars, while the eye, like a dual judgment from God and Old Scratch, burns you to the marrow.   

The rest of the shark's body sweeps past, his girth blotting out the sea.

He recedes, less substantial now than heat trembling off a desert road.  

Next diving day, you see nothing.


So it goes for two days of a five-day liveaboard trip: one day for a long barf-inducing chug south out of San Diego, three days of shark diving, another day back. Seventeen divers. Eleven crew.


Your charter vessel is anchored on the leeward side of the island. Shark diving tours are just coming into fashion here, with more and more outfitters sprouting up. The Mexican government is still adjusting, still assimilating how quickly these American charter boats are commodifying this remote rock, 150 miles off the west coast of Baja California Peninsula. The sharks have already learned to equate the sound of an approaching diesel engine with a dinner bell, after which comes the splash of hang bait—dead tuna parts tied to a line. Then powdered chum, made from dried fish and blood meal, tossed around the submerged cage before you drop in.

There have been incidents. 

Every so often, a shark swims through the cage aperture and, realizing it's trapped, starts thrashing with a convulsive power that scrambles divers up through the hatch. No one's been killed. Yet. But sometimes a shark will drown if it gets wedged in the window. It will be a couple years before film crews from Discovery Channel's "Shark Week" wade in and circus this place. Before certain outfitters will stage some 50,000 shark dives in a single four-month season. 
*
Third day. Visibility has now cleared to over 75 feet. The water column is pristine, resting between cobalt and cyan blue. But you have seen nothing all morning and afternoon. Mount Augusta, the island's volcanic peak, will soon break the yolk of the sun.

This is the last dive rotation of the trip.

You linger underwater with no visitors.

Then a splash off the starboard side of the cage.

When the foamy hubbub clears, a plucked turkey, maybe a 20-pounder, descends on the end of a line. No hook. The line has been threaded through the ass end of the carcass, out the neck hole, and tied fast. Your outfitter has decided that since neither chum nor hang bait have attracted a shark, maybe a Thanksgiving turkey will. It was intended as a gift for the island's consortium of Mexican fishermen to maintain good relations. But, too big for the freezer, the fowl has gone rank during the journey here. It floats, forlorn, vulnerable in its nakedness.

And just as unexpected, she is there. A white shark whose enormity will cruise your dreams for weeks to come.

She swims between the turkey and a panga that has drawn up near your charter vessel. At first, she is more curious about the smaller fishing boat. When she eases up beside it, her body runs the length of the hull, 18 feet.

She begins to do swim-bys near the turkey with an aloofness, a cautiousness, toward an object nothing like the seals she normally predates. Her passes grow longer as if she's about to leave. Someone above tugs on the line. The turkey flusters and jerks as would an animal in distress. The shark interrupts her straight line, circles in. She noses the meat just before her jaws yawn, no urgency, upper lip-line peeling back so you can see the hint of a bony ridge, teeth like broken razor blades. You watch the turkey drift into the cavern of her gullet, jaws closing again, deliberately. The line is snipped without effort, neat and clean. Bird swallowed whole. The shark angles toward open water, a queen content with her serving. Or no. She slows to a drift. Her long body hunches. She tosses her head, jaws opening wide, and you can almost hear the PUGH! when the turkey is spat out. Still in perfect condition, un-mauled, the bird tumbles forth then stabilizes upright, featherless wings opening before spiraling into the depths, a posthumous glide so captivating you almost forget to look beyond at the giantess. The way her tail with a lazy swagger pushes her through the sea just as it did 11 million years ago, back when nothing was ruined.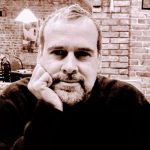 Chris J. Bahnsen's work has appeared in The New York Times, Los Angeles Times, Smithsonian's Air & Space, Hobart, Juked, River Teeth, Hippocampus, and elsewhere. His short story "Sign Followers" was runner up in Iron Horse Literary Review's 2018 Long Story Contest. In July 2021, his short story "Octagon Girl" appeared in Palm Springs Noir, an anthology from Akashic Books. He is an assistant editor with Narrative Magazine, dividing his time between Northwest Ohio and Southern California.