In 1905, my great-grandfather, Ferdinand Bellande, built a two-story colonial-style house in southern Haiti on the corner of Rues Bourbon and Condé in Jacmel's Bel-Air neighborhood. With its louvered shutters and high ceilings, the architecture was typical of former French colonies in the Caribbean. He and my great-grandmother raised nine children in that house, including my grandmother Annie, who died when my father was a child. 
I stopped living in Haiti at six years old when my American mother took my older sister, Sonia, and me and returned to her native Brooklyn. Sonia and I then spent the next decade flying back and forth, three times a year, to spend school holidays and summers with our father in Haiti. 
I was barely a teen in the early 1980s when we learned the Jacmel house had been destroyed in a fire sparked by a clothes iron. Family tattle blamed a rogue aunt: my father's cousin, the pampered, youngest child of her family. She was self-centered, spoiled, and had alienated much of the family, even before she married a round, red-faced Frenchman. No one was hurt in the fire. A neighbor carried elderly Great-Aunt Corinne to safety while Great-Aunt Sweetie was able to escape on her own. The negligent aunt-cousin—who I'd rather not name—soon left Haiti but would always be associated with the destruction of our patrimony.
A few months after the fire, when Sonia and I arrived for our visit, my father wouldn't say much about what happened. No one wanted the family split over blame. The house had been a place of gathering for all my great-grandparents' descendants. Without it, our family was adrift. No one had the money to rebuild, and so the house stayed in ruins. We lost our pied-à-terre, our place of belonging, in the town of our forebears.
Recently, on a visit to Jacmel, I went back for the second, or maybe the third time, to wander the ruins of my great-grandparents' home. Nostalgia pulled me there on infrequent trips to Haiti if I could arrange a ride from Port-au-Prince through the La Selle Mountains to the Southeast. I was drawn to the house—or the fragments that remained—like some are drawn to cemeteries—to visit, to relive, to let go. I was also, perhaps, searching for my grandmother Annie, who I'd never known. 
*
*
When I approached the arched, burgundy doors to the ruins on Bourbon and Condé, a bearded man, about forty, appeared out of nowhere. He was wearing an old shirt, oversized shorts, and Adidas slides. I knew the property still belonged to my father's family, but I wasn't sure if the intact sections were inhabited—either by renters or squatters. Introducing himself as Hercules, the man said he was the caretaker. I told him this was my family's house and asked if I could enter.
"The Bauduy house," he nodded welcomingly.
"Bauduy/Bellande," I corrected softly, imagining my Bellande ancestors cringing. The two sides of my father's family—the church-going Bellandes and the populist Bauduys —were milk and lime, as the Haitian proverb goes. 
The Bellandes, who had deep roots in Jacmel, were a socially correct family that mingled with the privileged class. The Bauduys, on the other hand, had moved to Jacmel from southwest Haiti when my great-grandfather, Charles Bauduy, was transferred to run the customs house. Charles, an advocate for the poor, befriended and secretly advised a peasant leader many upper-class Haitians feared. Although the families became linked by two brothers' marriages to two sisters (my grandparents among them) and had six grandchildren in common, the Bellandes and the Bauduys didn't socialize.
*
*
I followed Hercules through the front towering double doors into an enclosed courtyard that looked much smaller than when I was a child. The outer, concrete part of the house had withstood the blaze, and some windowless rooms of an annex were still habitable. But the center of the house—the area of antique mahogany furniture, marble tables, and oil lamps, the polished part from which children had been prohibited except to sleep—had burned to the ground. 
The cream painted walls and column arches were chipped and splotched with mold and grime. A faint smell of charcoal cooking wafted in from the streets. I turned to the left, where the kitchen and dining room once stood, and envisioned, for a moment, Tante Sweetie and Tante Corinne at the long table where we'd enjoyed breakfasts of warm akasan, corn porridge. The kitchen, dining area, and the store my great-aunts had run were all gone. 
My great-grandmother first established the store out of the foyer that opened onto Bourbon Street. She sold French foodstuffs, embroideries, hats, and other products that arrived by boat from France when Jacmel was a bustling port city. Tante Sweetie was still running the store up to the day of the fire. As a little girl, I remember when Tante Sweetie would let Sonia and me into the store through the door beyond the dining room. We'd stand behind the counter where she sold a bundle of fabric, a spool of thread, or a pincushion. There were no bags. She wrapped each sale neatly in brown paper, like a present, folding it again, and again, to keep it sealed.
For us, the highlight of the store was the button machine—a clunky metal contraption with a heavy lever and a spot to insert a circular piece of cloth. We set a bare button at the bottom, then pulled the lever, and—presto!—it produced a fabric-covered button. We could have spent the entire afternoon pulling down the lever and making assorted buttons. But Tante Sweetie kept an eye from the store counter to make sure she wasn't left with dozens of random, unmatched buttons.
I blinked and faced front, heading past leafy plants to the outside steps. We children never felt welcome on the inside of the house. The outside was our domain—the courtyard, the outer concrete steps, the storage alcove before the second floor (where Sonia and I played "market women"), and the colonnaded balustrade to the roof walk. 
The caretaker accompanied me up the steps, where I stopped at the alcove, a favorite hideaway for my sister and me. Discolored and overrun with greenish-black mold, it was dingy and dank and hardly looked like the magic playground I had known it to be. Hercules paused while I stared trance-like at the decrepit landing.
"It's a prison," he joked timidly, eyeing the jail-like railing bars that bordered the alcove.
"I used to play there," I said, toggling between the past and the present to explain. He nodded as if he understood, but I knew he couldn't see what I saw: two little girls lost in a make-believe world of rocks and leaves.
"How much are the carrots pratik?" Sonia would ask, motioning toward my pile of pebbles during one of our episodes of market women. Pratik meant that she was one of my regular customers.
"Three gourdes for the bunch, makomè." Makomè was a term of endearment used in the markets, like "my friend." 
"Three gourdes!" She'd suck her teeth with a slow, disdainful tchuiiiipppsssss, and cut her eyes at my pebble-carrots. "Three gourdes for these scrawny carrots? Pratik…." The second "pratik" was lyrical, as if saying, "Be reasonable, dear."
"These are good carrots. Fresh picked from the farm."
Sonia's voice would be sweet now, cajoling, like my father's when he teased and flirted with vegetable sellers. "Come on, give me a good price." 
Sonia, who was about seven, would pretend to gather her things.
At four years old, I already knew that this was part of the bargaining game, an attempt to make me panic and lower the price.
"Well, well…For you, my friend, two gourdes."
"Oh please. Do you think I'm a foreigner?" 
"Ok. For you, one gourde."
With that, she'd reach for some imaginary money in her shorts, and I would stuff it in my shirt as I'd seen real market women tuck money in their bosoms, sealing the deal. 
*
*
If I'd been alone that day, I would have lingered at the alcove. Instead, I continued up as Hercules pointed out cracks in the steps from the 2010 earthquake. I wondered if, during the fire, Tante Sweetie had escaped down these steps—once designated for children and servants—after the indoor wooden stairs had gone up in flames. 
After a brief stop on the second floor, past hollow window frames, I climbed to the roof walk. At the top, I inhaled and took in the familiar view—red-shingled roofs, flamboyant trees, the sea, and the far-off cape. I wished I could lean alone against the balustrade and think about my grandmother Annie, who had grown up and lived in that house until she married. On this balcony where she once stood, walking the steps she once descended, and in the courtyard that she used to stroll, I was seeking to connect with her. 
I pictured for a moment the nine children and all the grandchildren who had run through the house—this house that once seemed vast and maze-like and now seemed narrow and rundown. Had my grandmother played in the alcove with one of her sisters as I had with my sister? Had she spied down on the neighbors' yard from the roof walk, as we had, and then snapped her head back when they looked up? Did she creep after an older sister up the forbidden inside steps when no one was looking, as I had?
I knew very little about my grandmother Annie. For instance, I knew that she was once crowned queen of Jacmel's Mardi Gras carnival, an honor, I later learned, restricted to the upper class of the town. I also knew that though she came from a traditional, religious family, she chose to marry an atheist and a socialist, my Bauduy grandfather, Marc. I knew she'd died when my father was nine years old, possibly of a postpartum complication.
According to my father's few memories of his mother, she was protective of her three children. When he was very small, my father remembers how she would whisk him away, running with him in tow, any time she suspected her husband, my grandfather, intended to spank him for being naughty. He also remembers the time she was baking and my father, still a toddler, stuck a finger full of cake batter into his mouth. His face swelled unexpectedly from an apparent egg allergy, and Annie swept him into her arms before running into the street, shouting for a taxi to get him to a doctor. 
These two tiny memories offered just a glimpse of my grandmother, yet I felt that I loved her. I felt that things would have been different if my grandmother hadn't died in 1946 when my father was so young. If she'd lived, I would have known what it was like to have a grandmother who baked. My American grandmother, Leah, who grew up with an immigrant Jewish mother toiling long hours over a stove, hated cooking and considered sweets unhealthy. I wondered if Annie would have baked with me by her side. Would she have taught me family recipes, like one for sweet potato pudding? Did she make sweet potato pudding with a splash of rum and with raisins like one of her sisters had? Would she have told me stories about her childhood—about strolls to the Jacmel wharf singing in the moonlight? Or about how she picked my grandfather? 
I also wondered how my father might have been different without the trauma of her loss. More grounded, perhaps? And if so, would my parents have stayed together? Would I have grown up entirely in Haiti instead of split between a parent in Port-au-Prince and a parent in Brooklyn? Would my Haitian grandmother have given me the feeling of rootedness that had so often eluded me? 
I realized then why I returned to the house in Jacmel. I'd never had albums of tattered photographs, old letters, or mementos to tie me to my paternal family, and so I roamed the ruins of their house. The house was my connection to bygone relatives, to their lives, their stories, and to my family history. It helped link me to my ancestors and gave me assurance about my roots.
As I walked back across the courtyard, I imagined for a moment my grandmother's presence. I envisaged her watching me, standing at a distance in the white bridesmaid dress she was wearing in the only picture I'd ever seen of her. Like me, my grandmother spent formative years in and around this courtyard. Her laughter and tears had flowed through the now burned out rooms of the house. And though only the outer structure still remained, she was without a doubt from this place. 
Returning to the burgundy doors, I thanked Hercules and turned back to the ruins for a final look. My eyes skimmed over the leafy plants, the arches, and peeling paint, and I knew that I, too, was from that place.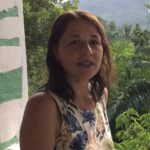 Jen Bauduy (Bō-dwee) is a writer and editor living in Washington, D.C. This essay is a partial excerpt from a memoir-in-progress about her Haitian and secular Jewish family. A chapter of her memoir was long listed for the First Pages Prize in 2020 and was a finalist for the Sandra Carpenter prize in Creative Non Fiction. Connect with Jen on Twitter @jen_ny_b.