in my childhood yard
was felled.
The fruit would rot,
attracting wasps and
yellow jackets. Open mouths
tore at the pulp. I stepped
in the mushy mounds.
I don't notice
the hollowed tunnels
in my own apple heart
that you burrowed
through. Your entry
and your exit. I have forgotten
the way in which
we fell in love. I had more urgent
need then. I had more fruit
to be devoured.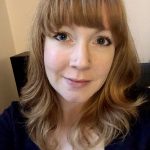 Emily Hockaday is the author of five chapbooks, including the forthcoming Beach Vocabulary from Red Bird Chaps. Her poems have appeared in numerous journals, and, along with Jackie Sherbow, she coedited the anthology Terror at the Crossroads. She can be found on the web at www.emilyhockaday.com and @E_Hockaday.