Bottles with the cap on, drifting on a sea
where nothing sinks and nothing opens.
Oceans, poisoned by a drink of water.
Press-on fingernails dance in curls
along the shore. Plastic swirls in eddies
of Pacific vast, muzzled phantoms in a pulp,
bobbing clear and blue and winking
in the light that was. Breath of rise and fall,
rippled six-pack rings. Once – I flapped
arms toward Mom, as Penobscot riptides
took me out. She waved from shore,
didn't realize, I flailed. Loss, a shade
of summer. Salt's taste is green.
Sixty years of tissue, gasping, I ride
crowded tides, lanternfish gone dark
in acres of Poland Springs, sealed
liters, a wail, choked on stale air.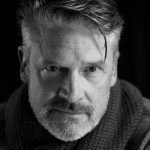 Robert Carr is the author of Amaranth, published in 2016 by Indolent Books, and The Unbuttoned Eye, a full-length 2019 collection from 3: A Taos Press. Among other publications, his poetry appears in the American Journal of Poetry, Crab Orchard, The Massachusetts Review, Rattle, and Shenandoah. Robert is a resident of Monmouth, Maine, where he lives with his husband Stephen. Additional information can be found at robertcarr.org