By the time I got down there, there were so many empty shelves in the Cape Coral house it looked like some beachy gift shop in foreclosure. My parents always planned to do Florida for retirement: a golf course, drives to the beach, Dine-N-Dance nights. Dad was fifty-five when he got lost in the office suite where he'd worked for two decades. Dad's partner forced him out of their accounting firm.—no one blamed the partner: it was early Alzheimer's. Mom moved them down to Cape Coral anyway, and Dad started hanging shelves.
*
Mom Facetimed me to mine a lode of guilt about visiting.
P_C"It'd mean the world to your father."
P_CWe both knew she meant herself.
P_CI said, "When you're ready for company."
P_CI owed somebody money, and I wasn't about to give my father the satisfaction of paying my airfare.
P_CThere were only a few shelves then—in the garage, where Mom showed off a sea foam golf cart with golden rims. Half-unpacked boxes were everywhere.
P_C"Alright," Mom said, swallowing.
P_CIt was OK. We both knew we were half-full of shit.
*
Dad suffered with the golf. Driving to Fort Meyers Beach made him nervous—bumper-to-bumper over the bridge, fired-up Spring Breakers hurling themselves into the surf.
P_CHis brain was spilling, but his body was still snapped tight. He'd always been religious at the gym and always gave me hell for how I'd gotten too skinny during the really bad years, and then too fat when things had gotten a little better.
P_CThat first shelf was a necessity: to hold the moving boxes. But when Mom saw him focus: climbing the ladder, drilling pilot holes, nudging the level flush—how it made him seem almost normal—she drove back to Home Depot for a whole stack of shelving kits. Eventually, Dad burned out a screw-gun, and Mom replaced it with a professional model.
*
Three years in, the shelving spanned floor to ceiling. Some kept vagrant totems: a few trophies from my father's pistol league in the bedroom, a creamy conch in the hall, a stack of phonebooks above the toilet, a curl of grapefruit peel hovering beside the fridge. The moving boxes were still mostly full. My whole adult life, my father had always given me one of those knuckle-crunching handshakes, but at the airport he just hugged me in this limp one-armed way.
P_C"He can't drill the shelves anymore," Mom whispered, her elbow linked tight around mine. "It's just too much."
*
I slept on the couch. Dad's stirring woke me in the night. He was in a full flannel suit, rocking his recliner, studying vacancies on the wall. I pulled a box over and started riffling through loose paper: cards, calendars, photos. He held his hand on mine as I lifted a slip of newsprint.
P_C"I know that," he said, flapping at the paper: an actual clipping from my first time in the police blotter. Nineteen, possession, resisting arrest.
P_CI didn't know why he hung onto it, and I got a little mad before I realized that I'd never really have the chance to ask. I wanted to tell him that I was finally getting my act together—show him pictures on my phone: this is my apartment, the UPS place where I work. This is the woman I wish to God would marry me. But he just searched my face, waiting for me to do something.
P_CSo, I grabbed a hammer and a box of nails from the garage and tapped the clipping into the edge of one of the empty shelves. Dad smiled and wobbled his head, marveling at the past's pure dream. It wasn't that he looked like himself. He looked like someone that I liked better.
P_CThen it all faded back into him. He stood up straight-faced, took the tools, and walked back to the garage.
*
Doctors say there was no point we could have stopped it, but I've spent so much time trying to thumb that exact moment he began to scatter, as if naming a space was enough to change what happened. There's just not enough definition in a life. I found Dad in the driveway, lit up with halogen through the open overhead door.
P_C"There was a place for this," he said to me.
P_CThe hammer was still in his hand, but the nails were rolling away—down the pavement and into the warmth of the dark.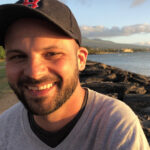 Brendan Egan's fiction and poetry has been published by Witness, Threepenny Review, Catapult, and other journals. He is the winner of the Greensboro Review's 2020 Robert Watson Award. A graduate of the MFA program at McNeese State University, he lives in West Texas where he teaches at Midland College and attempts to keep a garden. Over the years, he's spent some of his best summer days on Lake Pocasset in Wayne, Maine.