December 24th 1963 11:50 pm EST.
Those who are famous, those who are wealthy, those who are elderly, and those with children arrive early and find privilege in the sitting, in their asses growing cold and sore on the hard wooden benches. Austerity now is necessary for fertility eventually; this is the story they will tell themselves. Those who are young and those who are poor stand ornamentally at the back and on the sides, their cheerful, garish attire nicely framing the self-consciously elegant silvers and golds of the seated elite. A handful of children altar serve; they were once thought to be lucky, but now the community is divided. There's a reception with decaf coffee and bread-and-butter pudding to follow, at which talk is exchanged, a handful of men dance and try in vain to find communion with each other, the Mayor gives a toast, and Father Aubry makes one joke of near-questionable taste. It flowers out every year, further and further from something like folklore and more and more into refractions of memory.
Laura Kessler has dry grey-and-orange hair, which she's pulled back in a plait and pinned up with three silver hairpins reserved especially for holidays. She sits now on the bench of St. Bernadette's, feeling as close as she'll ever feel to again being a little girl. Peter is on her right, and to Peter's right is Duncan, looking brusque and kind in his Christmas-grey suit. She sits with gravity but twists her hands in her lap. There is, in her, a great reservoir of sadness which, on occasions such as this, is disturbed and spills out – only a little, though, in her hands, in the corners of her mouth. Christmas to Laura is familiar. Mass is familiar. It has all happened before and will all happen again, and it makes her feel that she lives on a line of kinds, a ship on a charted path that is merely buffeted (however severely) by the waves of the world. "The world has happened before." She thinks. She wonders if she had happened before, would happen again. She remembers to pray, tells God that she's sorry but doesn't understand why.
Peter is in a pair of ironed khakis, a white collared shirt rich with starch, and a red wool sweater which, pulled tight against the shirt, reveals his troubling and rawboned figure. He stares at the backs of heads, avoids eye contact with the iconography at the altar, doesn't understand why. Guy is standing in front of him to his right; Peter can tell from the brown cowlick. "Irish curls," Guy's mother had once said, although neither boy knew what that meant. Guy is wearing a suit, too large, probably his father's. Peter wonders, should he have lent Guy something, or would that have been too obvious a gesture – or worse, a condescension? Guy turns in mock anticipation of Father Aubry, catches Peter's eye. For a terrific second, Peter thinks he might wink, but he's already turned back around. Guy's mother is named Mary. She sings with the choir, a thin, gentle soprano.
The air is already rich with incense from the previous Mass; it had leaked through the thuribles into the stone, the wood, the stained glass. It penetrated the material of the Bibles and the parchment newsletter, the left-behind children's books, the mosaic tile flooring. Votive candles speckle the vestry ("westry in Latin and cowboys," says Duncan), like a great web of stars. The constellation makes Charity (the Mayor) nervous. She tells herself it's because they might, unattended, burn the whole thing to the ground and not because she feels an almost pantomime-level sense of irony in the image of a mess of flames just out of the perception of her periphery.
And so the Priest has processed in.
Peter again swims his eyes over the crowd in a self-conscious decadence of expectation. A second look from Guy? Someone is looking at him. It is not Guy.
The Mayor's husband has broken a sweat and curses himself for wearing a suit jacket over a sweater. He elaborates on the self-flagellation by regretting the turning, the seeing. It was a self-serving act to begin with, an attempt to make his presence known to the populace in anticipation of the reception, during which the town, soaked in wine and releasing the grief of the year, would be amiable, malleable in their acceptance of his fundamental goodness. Tonight is to be a coup in the public opinion, which will move the people from their vague memory of once disliking him to reconsideration, which will eventually ensure Charity is in a favorable position for reelection next year. And he feels, however feebly, however dumbly that perhaps there might be a miraculous baptism in his own minutia tonight, a rapture in meeting the eyes of him or her and saying 'Yes, and what are your plans for tomorrow?' that quiet and small act of pleasantry will create an appearance of goodness and then by extension create goodness itself. The puppet-play will suddenly, in this way, become flesh.
He had seen one of them. He feels his heart congeal into a plumb, hates himself. Charity's hand finds his back. "Breathe." She says. And he so he will. And so, he does. Her fingernails are painted a poisonous red for the occasion.
Peter sucks in air in a manner too obviously for his liking.
Charity's speech this year will set a record in oblique calculation, and she feels no apology for it. Grief must be managed as currency; she repeats it as before. Here she is to do a job, her job. No better or worse than brewing coffee. The dead boy's mother is not in attendance. Lyndon Johnson is not a Catholic. Lil is conspicuously absent, as is Cora Kenny. Lil is ideally working on the parade, but Cora has no reason. Charity draws her lips up into a smile using the corners of her eyes; it's a trick she's learned from watching Jackie. She tells herself that finally, Cora has fled; finally, she has folded like a card-table under the wicked weight of it all and quit the school. She's on this night, skipped town while the community is distracted, and hasn't even bothered to tell Richard. Charity turns and winks at Mrs. Person and Mrs. Petrides, who return the favor as if to say, "This whole thing is silly, but we'll anyway say the words."
Peter tries again for air.
(Cora is listening to Mass on the Radio and thinking of the Mayor's Husband. She wears a blue flannel nightgown she bought from a vendor in Bordeaux and sips decaf coffee splashed with Irish Cream. She was crying before, but now her face is blank.)
Father Aubry turns his back to the Congregation and begins to speak to God.
Peter thinks of angels, seraphic; thinks of Guy; of guys; of thick boots in mud; of incense, of blood; of Edith Sitwell; of the feeling of tongue like a cow's; of the pale landscapes of New England; fingers; urinals; stone and glass. He cannot breathe.
Laura doesn't notice, is lost, remembering one particular Christmas during which she was gifted a hand-me-down sundress in green-check from her sister. How she had loved that dress: unwrapping it, wearing it, watching it spill out around her, and feeling that she might eventually graduate into not life itself but something close enough. She feels a sudden love for Ruth. She misses her mother. What was Father Aubry saying? Something is wrong.
Peter, bright pink, is trying clumsily to escape from the packed pew. He's wet himself.
Charity turns in time to see Peter's father follow the same awkward, jerking path as his son, but she doesn't understand why either have left. Laura similarly has missed the impetus for leaving. She sits now, unenlightened, feeling again like a little girl, but this time in a different way.
Father Aubry says "Ab illo benedicáris, in cujus honóre cremáberis. Amen." Charity turns back, wrinkles her nose as she's thurified. Guy is staring straight ahead, seeing neither Peter nor Father Aubry. Charity's husband has not turned back at all, but still, he knows.
"Kýrie, eléison"
Father Aubry stands on the right side of the altar. The congregation replies.
"Kýrie, eléison"
"And how long, then, will we be in mourning?" Guy wonders, unsure if he's thinking of Kennedy or the O'Connor child.
"Christe, eléison."
And he says it back; feels the words die on his lips, dried roses of irony.
"Christe, eléison."
He notices Charity, upright and precise as ever, and her husband, pink and sweating. He nearly thinks, "Is that why-?" but stops himself and instead pictures of his own soul as a hard, shrinking thing which spirals down into an unbreakable sphere of marble – a common practice he uses when the world might crack open at its own satire, contextualization, its own sentiment. He will buy skim milk this week to help with the Strong's new diet.
The mouth of the door leading to the basement swallows the burgundy-coated Irma Baker, her three children. Charity stands stricken for a moment, for just a moment, and then raises her mouth (by way of her eyes) and her head (by way of her own two hands), and like Zipporah, she marches on.
The mouth eats. The mouth eats. The mouth eats.
*
Peter, pants drying, his father's good wool jacket wrapped around his waist, is standing outside, pushing his spine into the stone of the church. He surveys the little playground growing from the building's eastern wing. Here is an abandoned tricycle, a pre-made swing set, a dog's toy in the shape of a bone. Here is a balance beam. Here is a dirty ball in aqua stripes, nestled in the fine wooded chips of the ground.
Guy has appeared with two burning cups of spiced cider.
"We have five minutes. I have a nip if you want some."
Peter is already crying and already apologizing for it. Neither person knows what to say, although each expects the other to be on the verge of a beautiful eruption of rebirth by eloquence.
The air is lurid and silent. Peter's thighs and penis are freezing. It is nearly zero degrees. The lights outside are white and teal; they are pink and mauve and orange. The church is made of ashlar. Inside there are take-home polythene bags of candied apples.
"I have to find beauty in this, or I will die."
And it is midnight. The bell rings only eleven times. Guy takes Peter's hand for a moment; they stand in the cold, and they both know it will not be enough.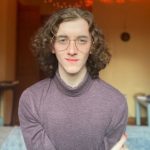 James La Bella (he/him) is a writer and theater-maker currently based in Brooklyn. His writing has appeared in Washington Square Review, The Civilians' Extended Play, as well as on stage at The Tank, The Brick, Sparkhaven Theater, Reground Theater, NYSAF's Powerhouse Theater, The Blank, Arts Garage Inc., and Emerson Stage. Recognitions include the Rod Parker Playwriting Fellowship, Betsy Carpenter Playwriting Award, and a Semi-Finalist title with the Bay Area Playwrights Festival. Jameslabella.com