there we were, within reach of the river's grasp,
discarding our clothes on the bank adjacent to our clay pots.
PUT_CH_HERour well water had receded into the earth, compelling us to
P_C_Hstretch across the woods
for waters,
& on discovery of Orhionmwon, our first thought was to dive—
frolic in the teeming blue.
PUT_CHARACTERS_HEREas kids, we grasped every occasion to be merry,
our laughter birthing universes of wonder.
then, everything else sailed into oblivion:
P_C_Hthe low-hanging sun in the expanse,
PUT_CHA_HEour parents anticipating our arrival,
PUT_CHARAC_HEREthe clay pots on the bank longing to be filled.
when we remembered ourselves,
we surge headlong to retrieve the pots, brimming the hollows.
PUT_CHARACTERS_HEREclad, we trekked the long pathways that led home.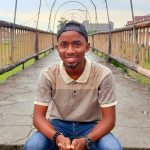 Praise Osawaru (he/him) is a writer of Bini descent. A Best of the Net nominee, his work appears or is forthcoming in FIYAH, Frontier Poetry, Down River Road, and The Lit Quarterly, among others. An NF2W Poetry scholar, he's the second-place winner of the Nigerian NewsDirect Poetry Prize 2020 and a finalist for the 2021 Stephen A. DiBiase Poetry Prize. He reads for Barren Magazine and Chestnut Review. Find him on Instagram & Twitter: @wordsmithpraise.