In Boston, two looping swans together on the Garden pond
crawling with bush rats. The pond lazy with birds
and Emerson students smoking weed by the pond
and Tufts students hustling weed by the pond
and lovers holding hands and taking selfies by the pond.
Does anyone notice the swans as they swim around the pond?
Not lovers, alone in long caresses, nor parents chasing
children and cleaning up messes, nor students climbing trees
on the way to classes and not money changers and chasers
and late minute subway riders. Only lonely, and lonely so
walking around and around in suits and coats soured
passed prime, as sour as pond water. Lonely throw time
and luck at the white infinity loop of swans swimming
and honking even as revolutionaries parade and call out
for justice in a voice that will be heard by no justice
as the poor and lonely and working and stressing
pass the ents and walk over vents as steam slips out
and into air. Swans do not know. Swans do not care,
and go on looping together on the Garden pond, in Boston.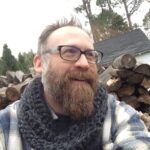 Stephen Scott Whitaker (@SScottWhitaker) is a member of the National Book Critics Circle and the co-editor of The Broadkill Review.  A teaching artist with the Virginia Commission for the Arts, an educator, and a grant writer, Whitaker's poems have appeared in Fourteen Hills, The Shore, The American Journal of Poetry, Oxford Poetry, & The Citron Review, and other journals. Mulch, a novel of weird fiction, is forthcoming from Montag Press in 2021.