My mother is a hand. Take that how you will. // I don't know how to describe my
father other than to say I don't deserve him. // Growing up, I was my mother's
hand as a fist. // I was a single finger pointing at everyone else while three pointed
squarely back at me. // I was an open palm I could not stop from hitting myself
with. // My mother's house was small and old and one night she caught her finger
closing a window. This is the only time I've believed her when she cried. // I've
never seen my father cry. // My first memory is my family in the kitchen, my
parents telling us they were getting divorced. // My father did not cry when his
father died. He did not cry when his mother died. He did not cry when he found
his brother's body hanging in the basement of his parents' house. // I don't know
if this is true or if I've tricked myself into believing it. // I went to Catholic school
and when kids' parents got divorced they came to me. I told them I'd rather have
two parents who are happy apart than unhappy together. // When that didn't work:
it's nice, you get two of everything. // Sometimes excess is the only way to teach
rich kids to heal their pain. // I did not get two of everything, I got zero of most. //
My parents got along until I was in 11th grade. // I don't remember the last time
they were in the same room. // Sometimes I'm afraid I don't know how to love. A
closed fist. A hand pulling back. // One time, at 17, I punched my sister square in
the face. I gave her the opportunity to hit me first but she said she would not hit
me because she loved me. // I loved her. // I hit her anyway.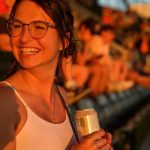 Kate Wright received her BA and MA in English from Penn State University and her MFA in Creative Writing and Environment from Iowa State University. She is currently a PhD student at the University of Tennessee, where she serves as poetry co-editor for Grist. Kate's work has appeared in or is forthcoming from OkayDonkey, Rust + Moth, Ghost City Review, Up the Staircase Quarterly, Rogue Agent, and elsewhere. Find her on Twitter @KateWrightpoet.