Dear Fellow Readers and Writers,
My attention, over the last year, has turned to lichens. My obsession grew slowly, which is fitting, given the subject: Greenshield lichen grows roughly 5mm per year. It began last January when I purchased Flora: Inside the Secret World of Plants and decided to read it cover to cover. I made it to page 12, where I discovered what others have long known: lichens are not plants. Instead, lichens are "composite organisms" made up of algae and/or cyanobacteria and fungi. The fungi provide shelter—the visible structure—while algae or bacteria provide food through photosynthesis. That's the simplest version. Some lichenologists have argued that lichens are actually ecosystems in miniature, supporting diverse lifeforms, including tardigrades and microscopic worms.
What do lichens have to do with Issue 8.1 of The Maine Review?
The Maine Review recently celebrated its second year as a nonprofit, online journal dedicated to making contemporary literature accessible to readers and writers of all incomes. Over the past two years, we've welcomed over 50 Staff Readers and 15 Editors, including our Co-Editor AJ Bermudez (read our Q&A with AJ), all of whom are writers themselves. They've read nearly 10,000 submissions and published hundreds of writers. Yet, we've asked ourselves many times, what exactly is a literary journal? Whom does it serve, and what does it provide? How and why should it grow? And, occasionally, why are we doing this?
I think the answers lie in lichens. A literary journal is not a publication, though it may seem like one, in the way lichens appear to be plants. Instead, a literary journal is a symbiosis. The Staff Readers and Editors—in our case, all volunteers—work together to provide a structure, a home for writers and their work. In return, the incredible work of the writers we publish feeds our community of readers and us. Submission fees and donations allow us to exist; that's the truth of the current system. In return, last year, we paid all of the writers we published and offered a total of eight weeks of free submissions for all writers, in addition to always offering free submissions for writers experiencing economic marginalization.
Issue 8.1
is a testament to mutualism in symbiosis. Grief and longing are palpable in this composite organism, as in William Fargason's
Elegy with Steam
, Tarra Ballard's
The Answer for Everything
, Adrian S. Potter's
The Half-Life of Human Memory
, and Aisha Ashraf's
Dissociation
. The writers' griefs speak to and for our own griefs, so we are, if not healed, at least soothed. Loneliness and feeling of otherness are also features of this organism, as in Coyote Shook's
Loretto
, Robin Gow's
[SPECULUM] ENVY
, and Rachel Browning's
Lamentation
. The writers' loneliness accompanies our own, leaving us, if not less lonely, at least less alone.
Ultimately, connections define this organism. The connections of blood, as in Amanda Auchter's My Birthfather Explains His Death. The connections of love and friendship, as in Shawna Ervin's Faith at A&W. And connections to our contemporaries and history, as in Colleen Abel's Tell Me the Secret of Your Great Strength and Fred D'Aguiar's Radicle Author Interview and poem Jean 'Binta' Breeze (1956-2021). The connections here, and in all the work published in Issue 8.1, answer that most pressing question we sometimes ask: why are we doing this—why write, why read, and why publish?
Because we want to, for you. And because we must, for us.
We at The Maine Review wish you good health and happiness, always.
Warm Regards,
Rosanna Gargiulo, Co-Editor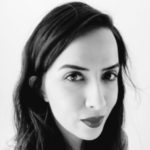 Rosanna Gargiulo (she/her) lives in Maine with her family and the perfect number of dogs (six, in case you were wondering). Her work has appeared or is forthcoming in Tahoma Literary Review, New South, Bacopa Literary Review, Sweet Lit, and elsewhere. She holds an MFA in Writing from Vermont College of Fine Arts.