Jazz's analgesic, a loud lullaby of unhomed birds
tweeting loss from the ugly side of paradise;
a quarrelsome tide, an endless sigh, a wildfire,
the groans of the boys who blacked out
in chain gangs in plantations in human zoos,
half-faces of the girls who wrapped their laughter
in tignons to disinfest America—sweet rotting rose.
And the first day I laughed long enough
God was asleep, snoring like a croaking bullfrog,
and didn't hear me chewing away
his leaves of faith as spirituals and gospels,
I, a flightless bird, tied to the frail
arms of Liberty Bell, couldn't cast a shadow.
A clan of riant notes within his trumpet
leaped onto my tongue, giving me a name;
it was Satchmo calling me back into myself
and a load heavy as lowliness dropped off
my head, and life—that old tempest—stretched
out her frigid, brittle hand calling me, come
on, child, live and love again. So, I
picked a big hoe, dug a small hole
in the Atlantic and buried a second time
all the folks whose broken bodies fattened up
the bald eagle that judges the world today.
This is how an illegal human being maps
a country she could call her home: first,
she skins Jim Crow, lifts her head like
a sprouting rose and jazzes out a name.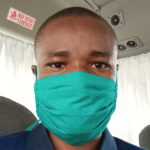 Tim Fab-Eme enjoys playing with poetic forms & themes of identity and the environment. He loves fishing and gardening; Tim hopes to revisit his abandoned prose manuscripts someday. He's published by The Malahat Review, New Welsh Review, Magma; The Fiddlehead, apt, Reckoning, FIYAH, Planet in Crisis Anthology, etc. Tim studied engineering at the Niger Delta University, and is presently pursuing a BA in English Studies at the University of Port Harcourt. He lives in Rivers.