in my parents' basement
pretending the desk is a bar top
pouring-can-into-glass acting
as the girls who work the taps
who are kind and smile for tips
and are fragile as falling glass,
smash. here i chew my finger skin
and drink until i sleep
because my teenage mattress
in all its master bed-mess
holds firm, waits for me
with a stuffed gentoo since three.
i wake, envisage
the desk spreading wide
as Peru's coastline
and discern it orange, spherical
on the Spanish balloon-o
(imagination depends on waves).
i'm nearer Chile, which is green.
things are not what they seem.
bottles are friends you empty
into yourself. now strangers neighbor me.
the man to my right is from Santiago.
nearby bohemians drink rice wine and tickle
fight. a girl and i make eyes and colour
our future. why her? why
anything? when this doesn't but it should
and this shouldn't but it does.
beers… borders… between.
to my left, a black hole.
i divert down to my toetips.
my parents pretend i'm ordinary
(or at least they hope so).
they would never come
to a place like this –
a place so full of potential.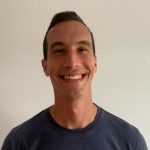 Jonathan Focht is a poet and amateur musician. His poems have recently appeared or are forthcoming in Vallum, EVENT, Carousel, and HASH. He lives in Montréal.