On the train, I dream my soft limbs fly over suitcases,
rainbow faces of men looming like balloons. I wake
to the station's cries, Mama's cool hands shaking me,
metal and iodine in my nostrils, soap sheets melting
on the floor, fans whirring. Summer like a crushed
grapefruit. Mama's dry kiss fading with her retreat,
Grandad waiting in an ambassador car, whiskey
in his salivating sweat, we drive to Crystal Apartments
where monkeys swing from cable wires, leap like
divine madmen. Grandma is in the courtyard filling
the crib of her sari with pigeon feathers and split tassels,
she knocks on all the doors, asks for plastic bags,
keeps them in the blue cupboard, rooms dense
with dust, Grandad's comics thumbed black, malted
sheets, sweet pillowcases, my body a strange hinterland.
Grandad sifts through a case of mangoes, picks the ripest,
in the kitchen he carves one as the summer monkeys
screech, holds the fleshy husk in front of me, says eat,
juice on my skin, seeds sucked clean. At lunch, Grandma
misses Grandad's plate, his voice snarling, arrows propelled
at a collapsing target. The thin crochet of her hair I comb
every morning, a bug crawling across her scalp, her face
an unmarked dial, I wake in the middle of the night
to crater eyes, silence fine tuning itself on her neck.
In the morning, I find her in the balcony, magnolia-lipped,
wrists wild openings. Grandad covers her with a tarp,
sews his anger into the awnings and I carry the threads
within me like a language. We step into the world
with sandpaper legacies. Mangoes to peel. Wings
to cut. A home bland without currents and singed
thumbs. We cannot alter the tint of our lenses.
When we ache, we ache for those early stings.
At twenty-four, in spite of having hated mangoes
for so long, I wake up craving them. I make summer
salads and invite men over to garnish with sprigs
of scorn. Life is all I really have, yet I keep seeking
death in different forms. I can't stop eating
in the kitchen naked, can't stop touching myself, bathing
in hot water, slicing the puckered canvas of my skin,
watching the fuchsia crawl, collecting butterfly wings,
licking them clean, hiding them in blue cupboards,
thinking, if a space is a song, then, perhaps
now, these relics will sing.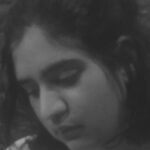 Neha Mulay is an Australian-Indian writer and a current MFA candidate in poetry at New York University. Her poems have appeared or are forthcoming in Black Warrior Review, Barzakh Magazine, and Coffin Bell Journal, among other publications. Her essays have appeared in Overland Literary Journal (online) and Feminartsy. She is the Managing Editor of Honeysuckle Magazine.