I wanted to be like Lucy—trapped on the IRT
with a loving cup stuck upside down on my head—
and not get mugged. To steal John Wayne's footprints
from Grauman's Chinese Theatre without remorse,
then bunk with Ethel for a whole week,
mindless of half-naked show girls, the fact
that my spouse shares our mattress with sleazy Fred.
I wanted a son like little Ricky—seen but not heard,
able to amuse himself between commercials.
And flaming hair. To be Queen of New York City,
boss my friends, and get into trouble so perfect
I'd never get shot from behind or bruised in a police raid.
I wanted immunity, kindness, the forgiveness of millions—
and one half hour of prime American time each week.
"What do you think you're looking at?" says Ethel
to the man who stares at the scarf-covered trophy
on Lucy's head. "Haven't you ever seen a bee keeper
on the subway before?" I wanted a friend who's that smart.
Ultimately: reruns. The luck to replay my life.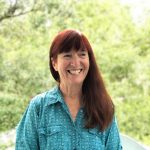 Maureen Seaton has authored numerous poetry collections, solo and collaborative—most recently, UNDERSEA (JackLeg, 2021). Awards include the Florida Poetry Prize, Iowa Poetry Prize, Lambda Literary Award, Audre Lorde Award, and NEA. Her work has been honored in the Pushcart Prize Anthology and Best American Poetry. Her memoir, Sex Talks to Girls (University of Wisconsin, 2008, 2018), also won a Lambda Literary Award. She was named Miami's Best Poet 2020 by Miami New Times.